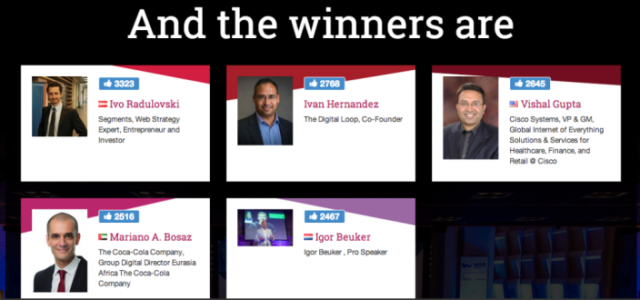 The fierce competition for speakers at the 6th Webit Global Congress is over, so we have the winners.
RECORD BREAKING 53'123 people voted for 312 candidates to join the amazing speakers of the Global Webit Congress 2014.
The number of participants was impressive as well as the fact that we had participants from all over the world. Amongst the applicants, there were experts from companies like SAP Platform Solutions, Software University, Gemius SA, Ernst & Young, Publicis Groupe, Google, Groupon, International, NASDAQ OMX, Cisco Systems, Gartner, etc.We are pleased to present you:
Ivo Radulovski, 3323 votes – Segments, Web Strategy Expert, Entrepreneur and Investor
Ivan Hernandez, 2768 votes – The Digital Loop, Co-Founder
Vishal Gupta, 2645 votes – Cisco Systems, VP & GM, Global Internet of Everything Solutions & Services for Healthcare, Finance, and Retail @ Cisco
Mariano A. Bosaz, 2615 votes – The Coca-Cola Company, Group Digital Director Eurasia Africa The Coca-Cola Company
Igor Beuker, 2476 votes – Igor Beuker, Pro Speaker
Except for the opportunity to want to talk in front of an audience of 10'000 C-level Digital and Tech executives, decision makers and global media from 110 countries, the winners shall also get a Webit Platinum Pass at value of 2000 EUR. It will provide them with full access to the whole Congress, CEOs Lunch, Leaders Lunch, Speakers Lounge plus all Networking Lounges, Chairman's Dinner on a boat on Bosphorus and Speakers Hammam Dinner as well of course to the official Webit Party on the man-made island Suada!
In the next few days, you can expect interviews with the winners. Meanwhile, hurry up and book your ticket for the front line!