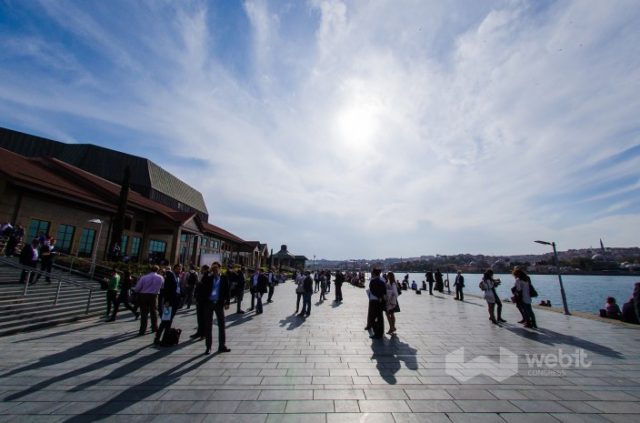 If you ask someone from the tourism industry, they will recommend the period September – November. Why? That's when the crowds diminish, the rates drop, and weather is spectacular. What makes Istanbul so important you may wonder. First of all, the history, for sure. The city served as the capital of four empires: the Roman Empire, the Byzantine Empire, the Latin Empire and the Ottoman Empire, so you image how rich in history it is. Amongst the top tourist attractions you can find Istanbul Galata Tower, Istanbul Maiden's Tower, Hagia Sophia, Istanbul Egyptian Bazaar, Istanbul Blue Mosque (Sultan Ahmet Mosque), Istanbul Basilica Cistern (YereBatan Sarnici), Istanbul Vialand (Turkey's Disneyland), Istanbul Topkapi Palace Museum, etc. Amazing city with irresistible atmosphere.
If you ask someone from the Digital industry about the best time to visit Istanbul, they will tell you two days: 1-2 October. The time when the global digital and tech leaders gather together for a memorable experience – the 6th Webit Global Congress.
Till the end of August you have tickets with early bird prices that you should not miss. Take the Red Pass which will provide you with access to Digital Marketing & Innovation Conference only for €160. The same price is valid for the Blue Pass which provide you with access to Leaders of the Future tech Summit. The Gold Pass will provide you with full access of both the Red and the Blue Pass, plus the official Webit party. Last, but not least is the Platinum Pass which provides you with the full access of the Gold one and in addition you receive access to CEOs Networking Lunch, Chairman's Dinner on a boat on Bosphorus, Leaders Networking Lunch and the Official Webit party. The early bird price for the Platinum Pass is  €1200.
Have in mind that early bird tickets are almost 50% cheaper than the final prices. So do not miss them, save money and enjoy your time in the city of Istanbul.