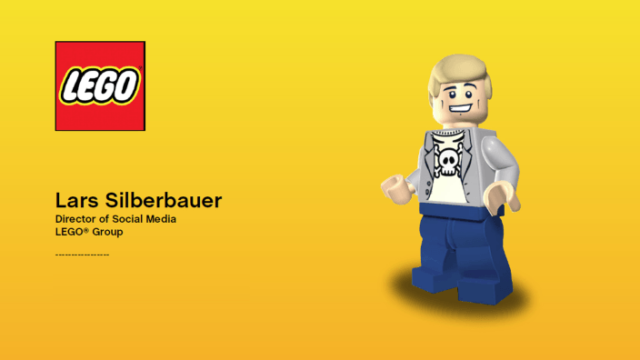 I don't know if there is something that exercise children's creativity more than LEGO. LEGO Group considers children and children's play to be the cornerstone of everything they do.The company takes this responsibility seriously and always sets ambitions high, as only the best is good enough for the builders of tomorrow. The LEGO Group is engaged in the development of children's creativity through playing and learning. Based on the world-famous LEGO® brick, the company today provides toys, experiences and teaching materials for children in more than 130 countries. At the stage of the 6th Webit Global Congress you will have the opportunity to meet an expert from the amazing LEGO's team.
Lars Silberbauer Andersen is Global Director of Social Media & Search at the LEGO Group and is driving the well known and innovative toy company's social media & search strategy and execution. He has building the company's social media engagement from scratch and now leads a global team of social media & search marketers that drives real time engagement with consumers worldwide. In 2014 he launched LEGO® TV in 24 markets. LEGO® TV is a native mobile experience for kids where they can experience high quality animated LEGO content and also heads up the LEGO YouTube channels.
Previously he worked for 10 years in the digital and broadcast media industry as digital strategist and later creative manager driving digital strategy and leading project development for Danish Broadcasting Corporation. He has also worked in the US, driving web development and user research. He holds and MA in Digital Media Science and a HD in Innovation and Organizational Strategy.
Lars combines digital and social in the best way. He has great interpersonal skills and is such a humble speaker. Creativity can be contagious, so come at Webit in October and meet Lars. Book your tickets now with early bird prices.