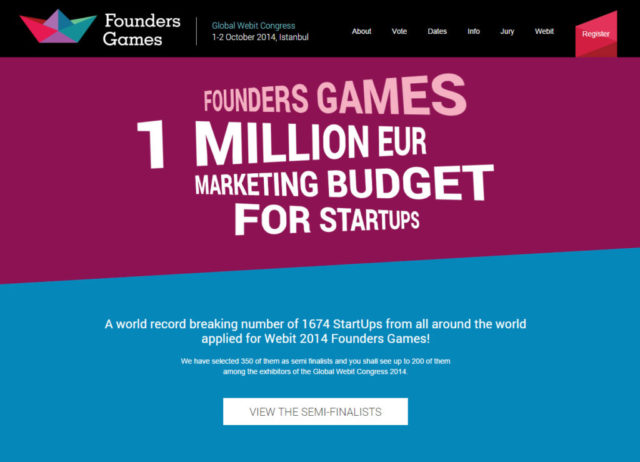 The Founders Games of the Global Webit Congress was a amazing experience. It broke records both in number of startups which applied and the number of people who voted!
The amazing Webit audience had to select the 5 of them which to have the right to pitch at the Global Webit Congress stages as part of the A-Selection online voting.
The world record breaking number of 1674 startups from all around the world has applied and 330 were selected as semi-finalists.
70 971 votes have been casted!  70 971 have voted for their favorite startups! That is truly amazing – thanks to all participants – both startups and supporters!
The winners shall have the chance to present in front of hundreds of investors and thousands of top level marketing, tech and digital executives from companies around the world as well as big number of media.
Even though the rules of the A-Selection were very clear and they forbid any form of incentives in return of votes – some of the participants broke these rules and unfortunately had to be disqualified. But this was a very small number and we are happy that the fair-play was integral part of this voting.
Well – the time has come and we announce the results and the winners of the A-Selection of the Founders Games.
The WINNERS are:

Kezakoo
eLearning

Shablol
Digital Entertainment

MENA Commerce
Xaas

Monitor Backlinks
Advertising
Abracadabra Robotics
Biotech
You may see them along with all participants here:
http://games.webitcongress.com/founders-games/vote.php
Congrats!
Another 20 startups shall be selected by the Founders Games Jury and shall be announced in on 15 September. All 25 startups shall pitch at the Global Webit Congress stages in front of the Jury and the Congress attendees.
Don't miss the opportunity to see over 160 startups also at the StartUp Village of the Global Webit Congress on 1-2 October 2014 along with the world's Digital & Tech Prophets who join the Congress. Book your ticket if you haven't done it yet as the event is close to being sold out soon!
See you in Istanbul!
The Global Webit Congress Team