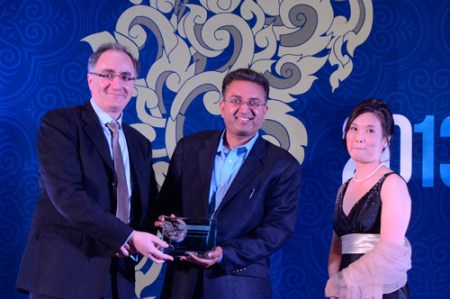 Cisco announced that it will continue to deepen and widen its focus on driving healthcare initiatives. Cisco's Care-at-a-Distance solution enables remote examination and consultation. Cisco's Connected Health solutions help improve patient education, wellness management, post-discharge follow up, and doctor-to-specialist collaboration.
Vishal Gupta, VP Advanced Services, Cisco Systems is amongst the Webit Audience Choice Speakers and he will be speaking  on the hot topic of present and future opportunities of Internet of Things (IoT) at the blue track of the Global Webit Summit.
Here is the interview with him about the emotions to be a Webit speaker and the motivation to apply.
_ Are you excited that you are among the winners at audience award to be on the stage of GWC so 10 000 visitors from EMEA and ASIA will be able to hear your thoughts and you will share your experience with them?
V.G.: Yes, I am super excited that I will have the opportunity to share some really exciting thoughts with an amazing audience at Webit that really gets Web and can influence what the next big thing will be.
_ During the contest they were really big names in the digital and tech industry worldwide so what was the feeling to compete?
V.G.: It was a humbling experience to compete with 300+ high quality potential speakers who had submitted their proposal to speak at Webit and it was a great honor to even have the opportunity to apply to be a speaker.
_ What was your motivation to apply for a speaker at Webit and What are your expectations from the 6th Webit Global Congress?
V.G.: My motivation to apply as a speaker was to share and learn in real time as I truly believe that the best days of realizing the potential of web are still ahead of us and I thought that Webit provided the perfect stage for unprecedented global collaboration&gt.
_ We have more than 300 media from all around the world there that are very curious for news and launches so please share with us in before just a part of your topic so to keep it hot..
V.G.: How can Internet of Things truly transform industries like Healthcare, Retail, and Finance and create trillions of dollar in incremental value? What does the hospital room of the Future and a Bank Brach of the future look like which can not only transform the customer experience but also make it more secure and user friendly?
_ Who would you advise to attend Webit Global Congress and why?
V.G.: I would recommend CXOs, Technologists, Entrepreneurs, and Business Development professionals to attend Webit Global Congress which can a "Spa for their mind" and can help forge new thinking and relationships which will be critical for their and their company's next stage of growth.
Hurry up and book your ticket for the front line!