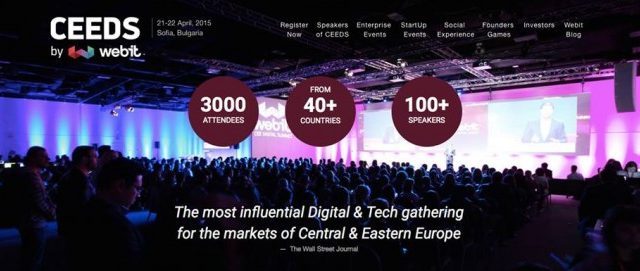 One equals three, even four, if you prefer. But how is this possible, you will ask. CEEDS'15 by Webit makes it possible because 1 ticket grants access to 3 events + the official Webit party powered by Fashion TV. Sounds more than perfect, ah? Let's take a look at the events, included in the ticket.
First, you have Marketing and Innovation Summit where hot topics like Digital Transformation, Programmatic, Metrix & Data, Digital Entertainment & Media, Brand Social Strategies and Mobile will be discussed. Even more impressive is the audience – CMOs, CIOs of advertisers, retailers, broadcasters, publishers and adtech solution providers.
The second event is the Tech Summit with other hot topics such as IoT (Wearables, Smart Cities, C.Cars, Smart Home, mHealth, Education), BigCloud (BigData, Cloud, BI), Money and Payments. The audience here consists of CTOs, CIOs and innovators. Last but not least comes Trade Expo where you can get more inspiration and ideas from successful experts.
We have a bonus for you, because as you may know the words 'work hard, party harder' match perfectly with Webit's brand. The climax of CEEDS'15 is our party, powered by Fashion TV. Such a party is happening for the first time in this part of the world. In 2014, Webit Global Congress in Istanbul also had a party powered by Fashion TV and it was spectacular. Fabulous models and inspired attendees created an unforgettable night together. Now, it's time for Sofia, so prepare a superb outfit.
Hurry up and book your ticket 3in1. Do not miss this once in a lifetime opportunity.