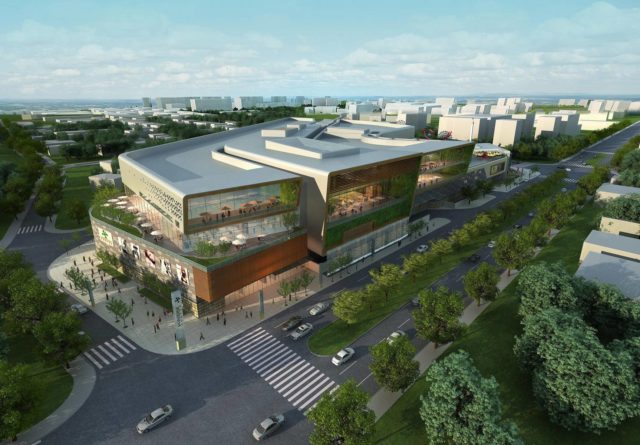 CEEDS'15 by Webit will take you to paradise. Not only because of the amazing program and lectors but literally. The event will take place at Paradise Center – the first Lifestyle Mall in Bulgaria.
Paradise Center has the best positioning since it was built on three major transport arteries – Cherni Vrah Blvd., Henrik Ibsen St., and Todor Kableshkov Blvd. The accessibility is very easy both with a car and with the aboveground or the underground public transport. The extension of the M2 metro line provides for the construction of a metro station, the Vitosha station, which shall have a direct entrance-exit to level -1 of the shopping center. Paradise Center offers an extraordinary view to the Vitosha Mountain with excellent communication to any part of the capital.
The impressive architecture and design of Paradise Center was inspired by its unique location – between the city center and the mountain. The basic concept of Paradise Center is the synergy between trade and entertainment. The effect of the interior solutions is exalted by motifs creating the sense of outdoor high streets and park environment. Four interior areas are differentiated in the shopping mall; The Garden, The Canyon, The Terrace, and The Boulevard, which stand out with the various concept and design. The core of the project constitutes a nature garden with two waterfalls. Situated in the central atrium, it is bathed in sunlight. The panorama lift is situated there as well; it connects all levels and offers a view from above.
An important role for Paradise Center's positioning as the best place for holding events in the capital, is the Sofia Event Center, a unique in its nature multifunctional complex, having no equivalent in Bulgaria. It disposes of a hall with 2000 seats and an outdoor panorama terrace.
We don't guarantee that you will hear these words again, so hurry up and book your ticket for Paradise now.