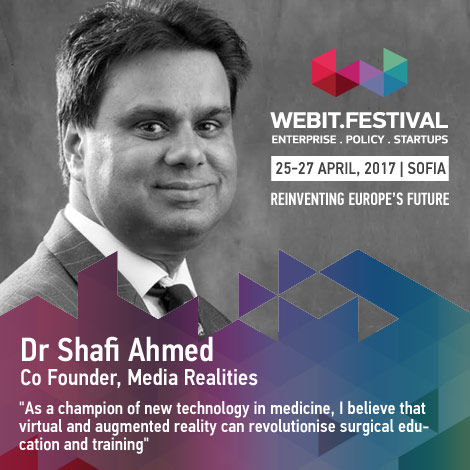 Digital health is among the topics at Webit Festival – it starts with the champion of new technology in medicine Dr Shafi Ahmed who will show how virtual and augmented reality can revolutionize surgical education and training.
One of the first confirmed speakers for Webit.Festival 2017 in Sofia is Dr Shafi Ahmed – pioneer in the use of virtual reality during surgeries. In fact, he is the first person in the world to live-stream an operation using Google Glass. If you want to hear more from him about this, you will see him on stage during Webit.Festival 2017 from 25-27 April in Sofia. Next year's edition of the festival promises to bring more than 5000 attendees along with the top executives from world's most renowned companies, investors, hottest startups and policy makers.
Going back to Dr Ahmed, he is world known as one of the best general and colorectal surgeons, operating at The Royal London Hospital. In 2007, he was appointed as a Consultant General, Colorectal and Laparoscopic Surgeon at Barts and the London NHS trust. But the thing he is most popular for is the world's first live-stream of an operation using Google Glass, which was watched live by 13000 students around the world. Dr Ahmed is also the founder of Medical Realities – an innovative group offering medical training products, specializing in virtual reality, augmented reality and serious games. By using consumer-level virtual reality devices such as the Oculus Rift, Medical Realities can reduce the cost of training, reach a wider audience and provide a completely safe learning environment for medical students. This is a whole new way of education for students, who can take the role of a surgeon and see through his eyes how is the surgery performed.
This approach could make healthcare more equitable, making the training of surgeons worldwide a lot better. All you need is a virtual reality headset and you don't have to travel abroad to train yourself, which is in fact a huge expense.
"Surgery has always been learned through apprenticeship. Students must spend time in an operating theatre to get quality training from a mentor.
While hospitals have got bigger and surgery has improved, the theatre space around the patient is still limited and it is difficult to provide everyone with a good view.
VR lets every student learn from the best seat at the operating table", says the doctor in one of his interviews.
The next step is the development of devices which imitate the physical contact between the user and computer. There are companies developing various gloves or bodysuits which can replicate touch and feel. Dr Ahmed thinks that this devices could be ready for use in 3 to 5 years and they will be the next addition in this new way of education for surgeons.
Of course, to know more about his thoughts on the subject, we will have to wait till April and his speech during Webit.Festival.
About Webit.Festival 2017:
Webit.Festival is the European edition of the Webit Series of events, which will take place in Sofia, Bulgaria, from the 25th to the 27th of April, 2017. The festival consists of several parallel conferences and events, workshops, roundtables and exhibitions.
The event is under the patronage of the Mayor of Sofia Mrs Yordanka Fandakova and the European Commission. The agenda includes Tech Summit, Marketing and Innovation Summit, Developers Summit and Smart Cities Summit. Separate area of the festival will be dedicated to startups from Bulgaria and other countries in the world. The agenda for the founders includes conference, meetings with investors, academy for startups and special stage for them to pitch their companies in front of a jury of investors, journalists and leaders of Fortune 500 companies. Webit.Festival is the most influential event on the tech and digital industry in the region.
To buy your tickets for Webit.Festival 2017, click here.
To apply for speaking, click here.
To apply for partnership, click here.
To apply for exhibiting, click here.
To apply for our Founders Games, click here.
To see the video gallery from Webit.Festival 2016, click here.
To learn more about the events that are part of the festival, click here.
To see pictures from our previous events, click here.
For all this information and even more, visit our website www.webit.bg.
Contact:
Aniela Russeva
aniela@webitcongress.com