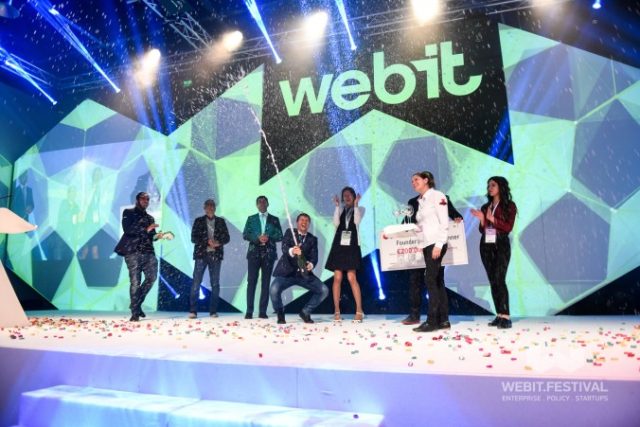 Do you like playing games and winning? Founders games is about business though!
Founders games is a unique chance for a startup to win 200 000 euro seed investment.  Webit Foundation receives thousands of applications for each Founders Games contest around the world at all Webit events in Europe, Asia, MIddle East…
Startups apply and if approved at first and second stage, they receive the opportunity to exhibit for free at a Startup village and pitch on one of the stages at Webit Festival.
Then after two days of live pitches the jury selects 5 among all pitching startups, that are around 200 normally. And these 5 go on the big stage and participate in the ceremony of Founders Games, where in front of our Final jury – a group of successful entrepreneurs, credible investors and inspiring business angels, they prove why their business is the one that should receive 200 000 euro seed investment.
The stirring competition at Webit Festival 2016 was won by AdGuard, a software for any device, blocking annoying ads, online tracking and protecting computer from malware. Check out the other finalists here.
At Webit Foundation we see great ideas appear every day. But we also know how hard it is to make someone believe and invest in your idea.
We also believe that it's not only about investment but it's more about real business opportunities that enterprises may provide because they need you. They need to innovate through collaboration with startups and this is what we do for them. We are not a startup event – they are so many and we are not – we have never been such. As international media call us, Webit is – the most friendly for startups ENTERPRISE event!
And we know it works – we have been called "crazy" 7 years ago when we started to mix "white shirts" and T-shirt guys and girls that drink beer during the events. And yes, we were enough crazy to prove the case and now already it's a world well known mechanism for not only events but also for exchange of innovations.
Your company is eligible if you're active in the following disciplines: Advertising, Biotech, Digital Commerce, Digital Entertainment, eLearning, Fintech, Games, Hardware, Health, Infrastructure, Money, Non-Profit, Social & dating, Travel, Xaas, Energy Efficiency, Space, Mobility, IoE.
If not among these maybe you tell us rising new category? Please share!
The 5 major milestones defining the finalists and the winner are: Team capacity, Project Scalability, Business approach, Marketing approach, Uniqueness of the idea.
If you get selected just book your stay in Sofia – digital capital of the new markets and it will be three days of fun in the city called among top 10 cities to live in Europe!
Every year the Webit Global series of events gathers one of the largest global communities of people inspired by technology and driving digital transformation in business and in the society. Uniting speakers, attendees, exhibitors and participants, we create a platform for dialogue between policy makers, enterprise and entrepreneurs.
Apply here and show us you're the best! We bet you can!
***
About Webit.Festival 2017:
Webit.Festival is the European edition of the Webit Series of events, which will take place in Sofia, Bulgaria, 25-27 April, 2017. The festival consists of several parallel conferences and events, workshops, roundtables and exhibitions, startup village with selected from around the world startups.   
The event is under the patronage of the Mayor of Sofia Mrs Yordanka Fandakova and supported by the European Commission. The agenda includes Tech Summit, Marketing and Innovation Summit, Developers Summit, Smart Cities Summit, New Economy Leader's Summit, Startup Village, Pitch stage and number of workshops and round table discussions, Night Urban Summit with 60 + meetups on different topics that will gather people to network by interest and explore Night Sofia! The agenda for the founders includes conferences, meetings with investors, academy for startups and special stage for them to pitch their companies in front of a jury of investors, journalists and leaders of Fortune 500 companies. Webit.Festival is the most influential event on the tech and digital industry in the region.
For all this information and even more, visit our website www.webit.bg .