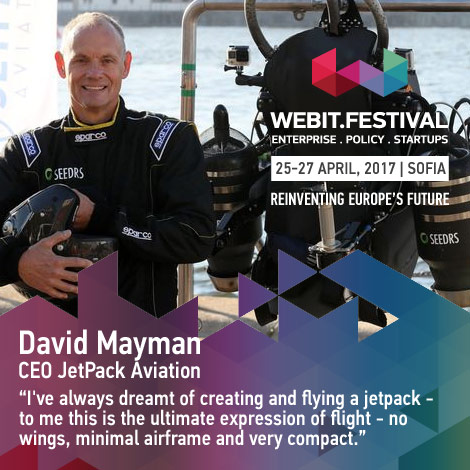 No, it's JetPack man. He will fly over Webit Festival 5000+ attendees! And not not by plane! He will just fly!
Watch out because David Mayman, the creator of "The World's First True Jetpack" and CEO of JetPack Aviation is coming to Webit.Festival'2017! And who knows – maybe will do a storm by landing on scene by his untraditional vehicle.
Have you ever wanted to fly? Maybe as a child you've wanted to fly with a pair of wings, to see all the beauty that birds see from above and to feel the ultimate freedom of the sky? Then real adults life comes and you learn you can only fly by plane, or eventually parachute or something else of the kind.
But David Mayman, one of our great speakers, didn't settle and worked hard to make flying possible nowadays. "I've always dreamt of creating and flying a jetpack – to me this is the ultimate expression of flight – no wings, minimal airframe and very compact.", he says. If you have recently heard of that vertically flying man in New York, London, and Monaco but you still don't believe it, you can trust us, he's real. "It really is like having a motorcycle or a bicycle in the air." by his own words. Not only he proves flying is possible, but what's more, he thinks he can teach you, even if you have never piloted a plane before.
David is a professional pilot with a curious career path combining aviation, internet technologies and commerce but he have always found real passion in aircraft. He devoted 25 years of discovering the ultimate freedom feeling by creating "The World's First True Jetpack" – light enough to be carried by a man and small enough to fit in a car. David have completed more than 400 test and a couple of real flights, armed only with his Jetpack on back.
The most recent model ot JetPack, JB-9, could reach 10,000 feet (3,050 metres) and a highest speed of 102 km/h with duration of the flight for about 10 minutes, says JetPack Aviation. The company wants to raise £300,000 in order to invest in further research and development for its JB-10 JetPack and VTOL aircraft.
And if today JetPack flying symbolises distant future, Mr Mayman says will work hard to create a commercial use JetPack so that one day JetPack could be a usual way of hanging around used by next generations.
About Webit.Festival 2017:
Webit.Festival is the European edition of the Webit Series of events, which will take place in Sofia, Bulgaria, from the 25th to the 27th of April, 2017. The festival consists of several parallel conferences and events, workshops, roundtables and exhibitions.
The event is under the patronage of the Mayor of Sofia Mrs Yordanka Fandakova and the European Commission. The agenda includes Tech Summit, Marketing and Innovation Summit, Developers Summit and Smart Cities Summit. Separate area of the festival will be dedicated to startups from Bulgaria and other countries in the world. The agenda for the founders includes conference, meetings with investors, academy for startups and special stage for them to pitch their companies in front of a jury of investors, journalists and leaders of Fortune 500 companies. Webit.Festival is the most influential event on the tech and digital industry in the region.
To buy your tickets for Webit.Festival 2017, click here.
To apply for speaking, click here.
To apply for partnership, click here.
To apply for exhibiting, click here.
To apply for our Founders Games, click here.
To see the video gallery from Webit.Festival 2016, click here.
To learn more about the events that are part of the festival, click here.
To see pictures from our previous events, click here.
For all this information and even more, visit our website www.webit.bg.
Contact:
Aniela Russeva
aniela@webitcongress.com