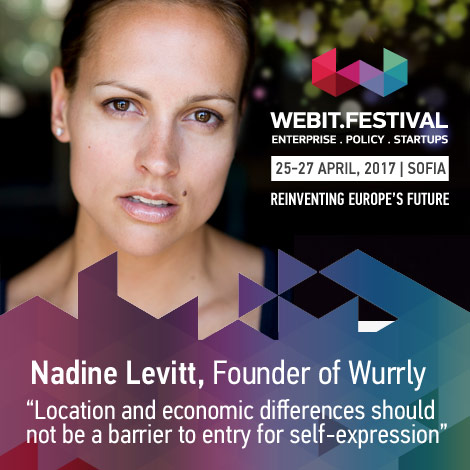 Meet the founder Nadine Levitt and her Wurrly, helping you turn your phone into a professional recording studio. 300 000 users with 1.5 million recording sessions did it already.
Nadine Levitt, who will be speaking during Webit.Festival 2017, is a professional opera singer and if the name doesn't ring any bells in your mind, you should know that she performed on one stage with people like Steven Tyler, David Foster, Christina Perri and Roger Daltry. So, she decided to create Wurrly, trying to erase some of the barriers for entry in the professional music world. Wurrly is an app, which transforms your phone into a recording studio – easy to use and delivering HQ records of performances on it. That's an easy way to record good performances without paying huge sums for studio time. All you have to do is download Wurrly. "Location and economic differences should not be a barrier to entry for self-expression," says Nadine about her try to disrupt the sector.
So here is the answer : because more than 80 % of all jobs and professions will be totally transformed within next 5-10 years. And we have to be ready so to take the advantage. It's not bad – it's just challenging and since yo read this and attend Webit – you will be among the prepared once.
And if you are still not impressed, Wurrly had already collaborated with the 'Lip Sync Battle'show, hosted by LL Cool J and airing on Spike TV. As we all know, celebrities appear on the show lip-syncing worldwide hits for the amusement of the audience. This is the place, where Channing Tatum is channeling Beyoncé, Joseph Gordon-Levitt can be seen performing as Janet Jackson, Anne Hathaway as Miley Cyrus and Dwayne "The Rock" Johnson searching for his inner Taylor Swift personality. The app is based exactly on Wurrly's engine and will help fans of the show record themselves and this way become part of the fun, challenging each other to a lip-sync duel.
For just one year, Wurrly has tracked more than 1.5 million recording sessions and over 300,000 users. So, Nadine can really tell us more about her way of changing ways music is made, we are really impatient to hear more on the topic.
About Webit.Festival 2017:
Webit.Festival is the European edition of the Webit Series of events, which will take place in Sofia, Bulgaria, from the 25th to the 27th of April, 2017. The festival consists of several parallel conferences and events, workshops, roundtables and exhibitions.
The event is under the patronage of the Mayor of Sofia Mrs Yordanka Fandakova and the European Commission. The agenda includes Tech Summit, Marketing and Innovation Summit, Developers Summit and Smart Cities Summit. Separate area of the festival will be dedicated to startups from Bulgaria and other countries in the world. The agenda for the founders includes conference, meetings with investors, academy for startups and special stage for them to pitch their companies in front of a jury of investors, journalists and leaders of Fortune 500 companies. Webit.Festival is the most influential event on the tech and digital industry in the region.
To buy your tickets for Webit.Festival 2017, click here.
To apply for speaking, click here.
To apply for partnership, click here.
To apply for exhibiting, click here.
To apply for our Founders Games, click here.
To see the video gallery from Webit.Festival 2016, click here.
To learn more about the events that are part of the festival, click here.
To see pictures from our previous events, click here.
For all this information and even more, visit our website www.webit.bg.
Contact:
Aniela Russeva
aniela@webitcongress.com