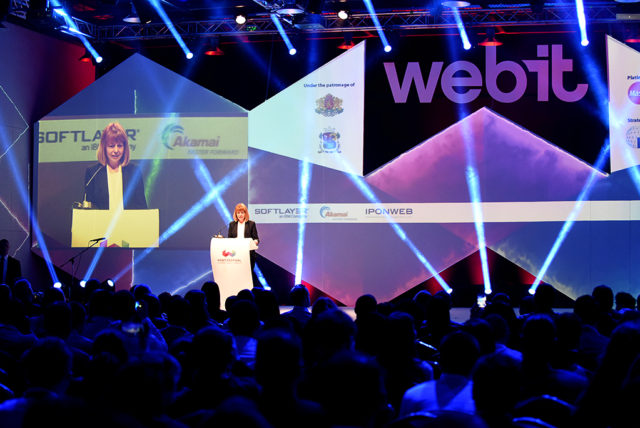 One of Webit.Festival Europe's most important summits, the New Economy Leadership Summit, is invitation only highest level event, gathering political leaders (e.g. Presidents, Vice Presidents and top European political leaders), top entrepreneurs and founders, Nobel Laureates, scientists and innovators along with top enterprise executives from Europe and rest of the world. During the 25th and the 26th of April, Webit.Festival 2017 is the place to be in Europe if you want to hear about the latest views of political leaders on some of the major challenges the humankind faces in today's Digital age, well being, ageing, innovations, cyber security, digital transformation, disruptive legislation and many other topics.
We have 3 new top-flight speakers in our lineup for the NELS! They include one of the top executives of World Economic Forum, the mayor of Tirana and a highly respected professor of Economics.
Martina Larkin, Head of Europe and Eurasia, World Economic Forum.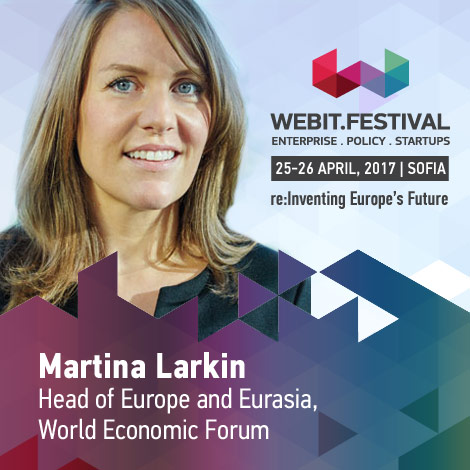 Member of the Executive Committee of World Economic Forum (WEF), Martina Larkin is definitely one of the professionals who fit on the New economy leadership summit scene. Her career starts as a marketing manager at Nestlé, continues with world of banking and consulting and ends up so far with the Swiss nonprofit foundation officially recognized as the international institution for cooperation between the public and the private sectors. Martina's WEF professional story starts in 2004 as a Senior Project Manager of The Forum of Young Global Leaders – a gathering of 800 selected enterpreneurs. Since then, she has been heading different departments in the international institution for cooperation between public and private sectors, till the moment she became Head of Europe and Eurasia of the WEF two years ago. What connects her professional roles is the work with thousands of experts and leaders representing all the stakeholders involved in creating projects for public goods. In 2011, Martina becomes part of Yale University's signature leadership development program as a Yale World Fellow helping creative minds to work on world's contemporary problems. Besides WEF, she is part of several non-profit boards.
Prof. Fátima Barros, BEREC Chair 2015, President of the Board, ANACOM Portugal.
B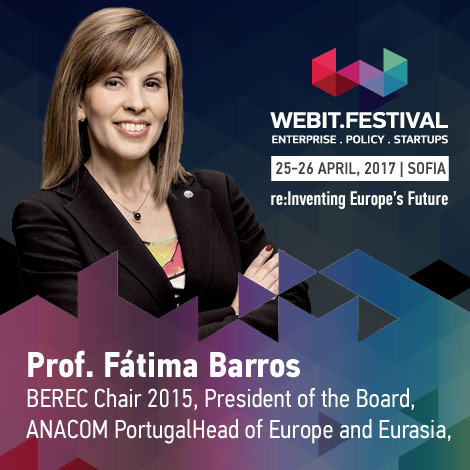 arros is Chair of the Body of European Regulators for Electronic Communications (BEREC) for 2015 and Vice-Chair for 2014. Since May 2012, she is the Head of the Portuguese National Regulatory Authority for Communications (ANACON). Prior to that, she was a Board Member of several international academic and business institutions. Currently professor of Economics and former Dean of Católica-Lisbon School of Business and Economics (2004-2012), Prof. Barros holds Ph.D. in Economics from Catholic University of Louvain (Belgium) and a BA in Economics from the Catholic University (Portugal). Her numerous publications in the area of regulation, competition and contract theory can be read in leading international scientific journals.
Erion Veliaj, Mayor of Tirana.
Erion V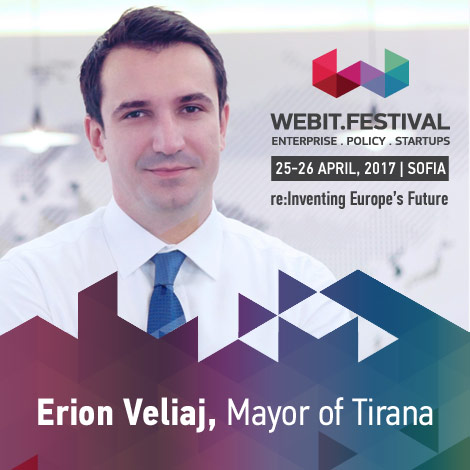 eliaj is the current, 42nd elected mayor of Albania's capital Tirana. Prior to that, he was Member of the Parliament for the district of Gjirokastra and Minister of Social Welfare and Youth. During his minister's mandate, he has worked on much needed reforms, concerning pensions, employment, social welfare payments and professional education. In the period of 2015's elections, his team created a crowd-sourced multi purpose smartphone application, giving easier access to information for Tirana's citizens and visitors and a platform for real-time signals and feedback straight to the government on problems or issues in their neighborhoods. This same smartphone app brought to the city of Tirana the 2016 Award from the Ljubljana Forum Future of Cities. It also won the reputation of a tool that "offers an instant access from the mobile phone to all real-time information related to road traffic, urban transport, tourism and many more things of interest".  Mr. Veliaj believes in leading by example – and as the current mayor of Tirana, he works for a notable change in the city. His political career starts in 2003 by founding a civic organization which gained popularity as a youth movement.
The main topics of the summit are the urgent need of the best cyber security solutions, the well being of the whole human kind, digital transformation and the ways for boosting the EU entrepreneurial system.
So far speakers at the NELS have been top level executives and innovators like Kristalina Georgieva, CEO of the World Bank, Rossen Plevneliev, President of Bulgaria, Markku Markkula, President, European Committee of the Regions (CoR), Andrus Ansip, Vice President European Commission, Binali Yildirim, Prime Minister Turkey.
So, don't waste time, these are all the important links you need:
To buy your tickets for Webit.Festival Europe 2017 (EarlyBird expires soon), click here.
To apply for speaking, click here.
To apply for partnership, click here.
To apply for exhibiting, click here.
StartUP? Apply for the Founders Games Challenge by Webit.Foundation and get an opportunity for free festival tickets (500), free exhibition table (100) and opportunity to win 200 000 EUR (only 1), click here.
To see the video gallery from Webit.Festival 2016, click here.
To learn more about the events that are part of the festival, click here.
To see pictures from our previous events, click here.
For more information on the Global Webit Series and our events in Dubai, Singapore, New Delhi and Istanbul: www.Webit.Org.