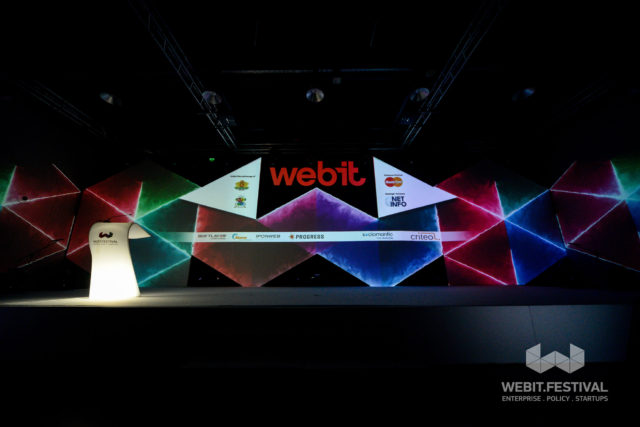 One of the most popular stages of Webit.Festival, the Marketing and Innovation Summit, is once again bringing together the top CMOs, CTOs and CIOs from the advertising world, broadcasters, publishers, and ad/media/digital agencies. During the 25th and the 26th of April, Webit.Festival 2017 is the place to be in Europe if you want to hear about the latest trends in marketing, media and how the digital transformation is continuously changing the whole business world.
Main topics on the agenda of the summit will be the rising use of virtual and augmented reality, especially in the digital entertainment, how consumer empowerment is driving new brand opportunity, brand social strategies, digital and programmatic advertising, metrix and data, video and mobile video marketing, the future of artificial intelligence in marketing, creating relationships with audience, benefits of storytelling in marketing and many more.
We have 3 new top-flight speakers in our lineup for the Marketing and Innovation Summit! They include top executive from one of the most influential research and advisory firms in the world, the CMO of one of the biggest business media worldwide and the chief digital officer of Wi-Fi security and privacy providing company, so read our guide to taking part or find out more about our latest speaker additions below.
 Victor Milligan, CMO, Forrester Research.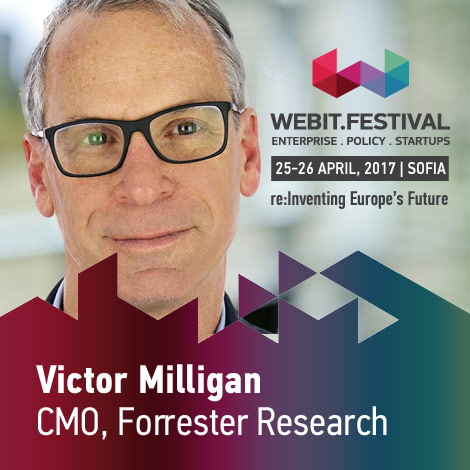 As the CMO of Forrester, the American advisory company, executing technology and market research, Victor Milligan aims to drive clients' growth by combining all kind of marketing operations, analytics and customer experience. Previously, Victor was responsible, again as the CMO, for the marketing development of two other companies: Nexage, a marketplace in mobile advertising relying on the forces of mobile revolution and programmatic technologies; and Lavastorm Analytics, a company combining enterprises-grade business applications with the potential of analytics. His professional approach lies on analytics as a key to early discovery of risks and delivery of transparency and liquidity to both buyers and sellers. Previously a Senior Managing Partner and Vertical Industry Leader at Gartner Consulting, another information technology research company, Victor developed and led $125M global vertical industry team. Before Gartner, Mr. Milligan led the architecture and planning team as Senior Associate at Booz Allen Hamilton for 9 years. He holds a Bachelor's degree in mathematics from the University of Vermont and have started his career in the US Air Force Space Command, contributing to the launch of the Global Positioning System, which is the base of so many location-based services today.
Bruce Rogers, Chief Insights Officer and Head of the CMO Practice, Forbes Media.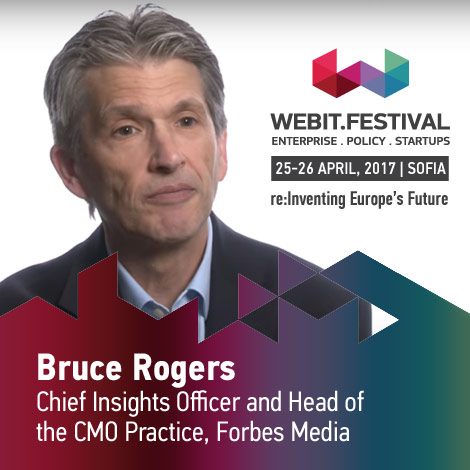 Currently responsible for Forbes Media's Insights division, Mr. Rogers works on the company's leadership practice engaged by blue-chip companies like IBM, KPMG, Google, EY, Deloitte and Cisco. He also deals with content and events for senior marketers. His career at Forbes started as a VP Marketing at Forbes Magazine in 1991, continued as Chief Brand Officer at Forbes Media in 2008 and led to his current role of Chief Insights Officer and Head of the CMO Practice at Forbes Media. Mr. Rogers is the author of a regular column on thought leaders changing the business landscape, several articles and reports. He is also the co-author of three books: "Profitable Brilliance," "In the Line of Money" and "I Win You Whatever". His business thoughts may be read under intriguing titles like "Publish or Perish", "Using Thought Leadership to Grow", "Why Companies Need a Chief Reason Officer" and so on. Bruce Rodgers is a member of several organizations such as Adtech, Business Marketing Association, SBV Solutions. Another proof of his effective marketing ideas is receiving the Gold Effie Award from the American Marketing Association.
Baglan Rhymes, Chief Digital Officer & SVP Global Revenue, AnchorFree Inc.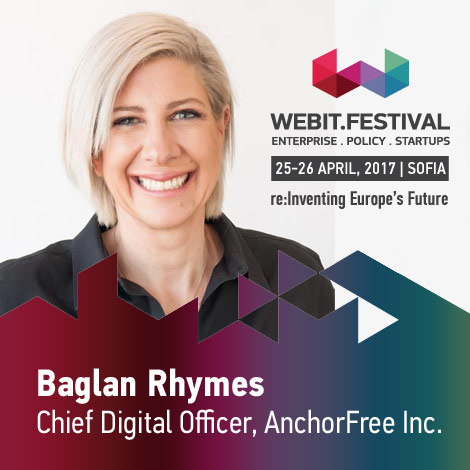 Ms. Rhymes' CV is rich not only in job titles and successful work projects, but in continuous volunteering experience too. Ms. Rhymes has played a key role in the history of her current company – the Wi-Fi security and privacy providing company AnchorFree. She actively contributed in raising $53M in Series C funding and in launching four new products, currently representing 98% of the company's revenues. Besides her main job title of Chief Digital Officer & SVP Global Revenue, she is an experienced speaker, lecturer and panelist in the field of entrepreneurship, innovation in technology and digital media. She contributes to the development and branding of some of the hottest tech startups in Silicon Valley. An active member of Forbes Agency Council, Ms. Rhymes is named as one of the most Influential Turkish Women in the USA. She is the author of several white papers like "Customs Union & Turkey", "Customs Union & the Aegean Region", "The Expectations of Turkish Newspaper Readers", "The Role of the Universities in Establishing and Maintaining the Democratic Foundations in a Society: The Turkish Case". She has recently published her first, co-authored book – "Of Love, Autonomy & Wealth: Work and Play in the Virtual World", named as one of the best in self-help and business.
Previous speakers at the Marketing and Innovation Summit are top level executives like Ward Van Duffel, VP and General Manager Direct to Consumer Lego, Benjamin Faes, Managing Director PBS Google, Anosh Thakkar, CTO Philips, Jim Rosenberg, Chief Digital Officer UNICEF, David Moore, Chairman of Xaxis and President of WPP Digital, Jay Altschuler, Director Global Media Unilever, Pete Blackshaw, Global Head of Digital Marketing and Social Media Nestlé, Norm Johnston, Chief Digital Officer Mindshare Worldwide, Dr. Torsten Wingenter, Head of Digital Innovations Lufthansa, Tom Bowman, VP, Strategy&Operations, Global Advertising Sales BBC World.
The Marketing and Innovation Summit is also great for networking – the next business opportunity could be waiting for you right there. Listening to the great presentators, you can also learn a lot about the way you're a running your business and its marketing.
So, don't waste your time, these are all the important links you need:
To buy your tickets for Webit.Festival Europe 2017 (EarlyBird expires soon), click here.
To apply for speaking, click here.
To apply for partnership, click here.
To apply for exhibiting, click here.
StartUP? Apply for the Founders Games Challenge by Webit.Foundation and get an opportunity for free festival tickets (500), free exhibition table (100) and opportunity to win 200 000 EUR (only 1), click here.
To see the video gallery from Webit.Festival 2016, click here.
To learn more about the events that are part of the festival, click here.
To see pictures from our previous events, click here.
For more information on the Global Webit Series and our events in Dubai, Singapore, New Delhi and Istanbul: www.Webit.Org.