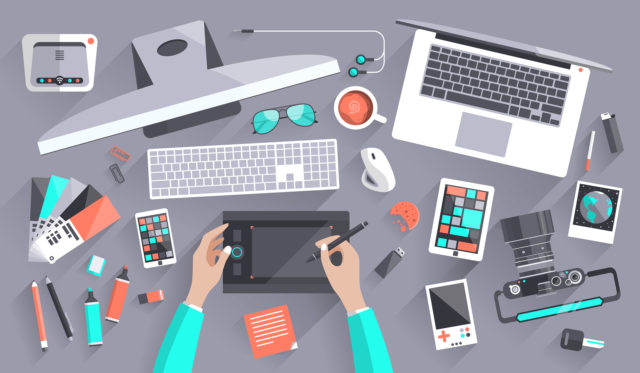 In marketing you always have to be one step ahead of the pack and if you don't have a crystal ball in your office, the best way to be switched on the trends of the future is to build a better understanding about the technological advancements of today.
In fact new tech is more than just an engine of the digital age marketing. It is a generator for new types of customer demand and market shifts.
According to Entrepreneur Magazine's poll, 51.9% of the marketers worldwide named video as the content type that gives the best return of investment. Meanwhile Cisco predicts that by 2020 video will account for 82% of all consumer internet traffic.
This hot trend is visible even in the media coverage as more and more outlets prefer to share a viral short and texted clip on their timeline instead of writing an long analytical piece on the topic. The reason for the new strategy is the new life dynamics and the inability of users to hold their attention on something for more than minute and a half.
Social media already promotes the video content in their algorithms, while Facebook's CEO Mark Zuckerberg forecasted that within five years the social network will be mostly filled with video.
About 43% of people online want to see more video content from marketers, but social media gives even more effective ways to communicate directly with the customer.
One example of that is the the Snapchat geofilter that gives businesses the capability to customize ads and to target them to the users in specific location and time, for example the attendees on a concert, sports event or Webit.Festival 2017.
Apps like Snapchat are becoming a prefered advertising option because of the limited lifespan posts they are providing. That way companies can run ad campaigns that disappear after a set period of time. Instagram already launched their own feature for this type of marketing activity.
Five9's CMO Kevin Garvin thinks that in 2017 video customer service will finally go mainstream and will be a powerful tool to ease communication problems in an easy and efficient manner. Part of the reason is the advance in marketing tech, that gives small and midsized marketers sophisticated tools with small budget.
Many companies that never considered advertising on TV can now add an online video strategy to their program for B2C communication.
Last year was big for live streaming as every major social network has incorporated this in its platform. But before they start streaming the marketers first have to carefully think about ideas for authentic instant content.
If you want to keep up with the hottest trends in the world of marketing Webit.Festival is the right place for you. During the Marketing&Innovations Summit, you can listen to top level speakers such as the Chief Creative Officer at DigitasLBi Chris Clarke, who was recently placed at 53th place in The Drum's Adverati list of the most influential people in advertising.