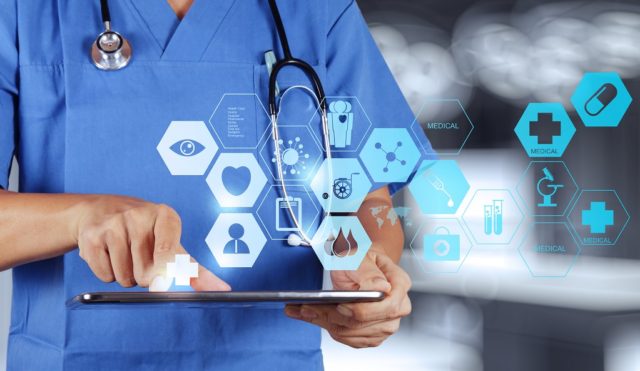 Today the state of multitrillion dollar healthcare worldwide is inefficient, bureaucratic and too expensive. But all this could change thanks to the implementation of exciting new technologies for digitalization of health.
The time has come for the healthcare industry to follow transport's suit and to embrace disruptive innovators like Uber and Lyft, who used the full potential of mobile technology to revolutionize the taxi industry.
Thousands of startups, along with giants like Google, IBM, Apple, Samsung and many others are entering the new market for Digital Health and will totally transform the way people are treated today.
All this will lead to healthcare, which is much cheaper and effective, experts believe that in the next 10 years this will be the most transformed industry in the world. Part of the reason is the rise of IoE devices, which will give medics accurate and live information about our health status.
Wearables now monitor everything from blood sugar to blood pressure, medication, weight and levels of activity. According to recent research the medical device industry market, which totaled about $5.1 billion in 2015 will almost triple by the end of decade.
Better monitoring, including devices and home visits, can lower the need of hospitalization and lead to huge cost savings. The CVS Health Research Institute calculated that deployment of remote devices and using their data could save as much as $63 million per 100 000 patients with high cholesterol and diabetes.
Digital healthcare investment already has gone through several different waves. In 2013 the market was all about consumer wearables, in 2014 we saw the rise of healthcare big data. 2015 was the year of virtual care delivery and in 2016 we saw some development in payer disruption.
But this year we can expect a return to developing technology that enables providers of health services to extend their reach and take greater risks.
Recently the World Health Organization (WHO) announced the forming of an expert committee, that will create guidelines for countries and implementers on how to use digital health strategies to improve reproductive health outcomes.
Disruption of the healthcare industry will require continued movement towards a more value-based model, which will help for improving of preventive medicine, patient-centered and patient-powered care and reduced costs.
If you want to keep up with the hottest trends in the world of digital health Webit.Festival is the right place for you. During the Health & Wellbeing Summit, you can listen to top level speakers such as the Consultant surgeon & Co-founder of Virtual Medics and Medical Realities prof. Shafi Ahmed. He is the first doctor who streamed a live operation using Google Glass to 14 000 students in 2014.