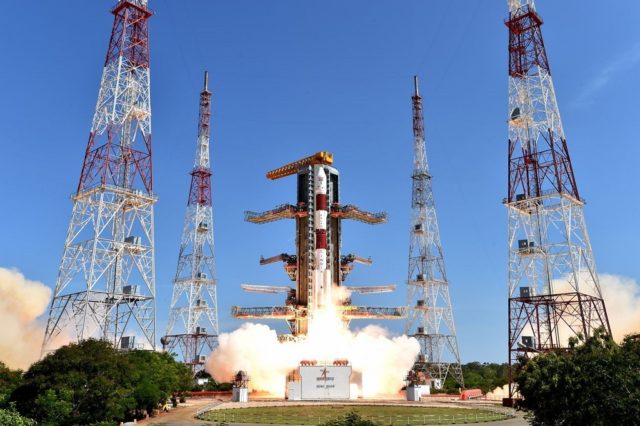 Aerospace industry worldwide is experiencing a renaissance, but unlike the space race years during the Cold War, now the innovations come not only from American and Russian government agencies, but also from emerging economies like India.
Just yesterday the Asian country made history by successfully launching 104 satellites on a single mission, surpassing the previous record of 37 satellites, launched by Russia 3 years ago.
Experts say this is a sign that India is emerging as a major player in the multi-billion dollar space market, while the Prime Minister of the country Narendra Modi was among the first to congratulate the team behind the effort. He tweeted that this is another proud moment for the nation's scientific community.
This remarkable feat by @isro is yet another proud moment for our space scientific community and the nation. India salutes our scientists.

— Narendra Modi (@narendramodi) February 15, 2017
The main task of the launch was to get the Cartosat-2 Earth-observation satellite in orbit. It is expected to be used for monitoring of India's local rivals – Pakistan and China. The other 103 spacecraft were nanosatellites, provided by countries like Israel, Kazakhstan, the Netherlands, Switzerland, the United Arab Emirates and the United States.
88 of them are owned by the San Francisco company Planet (ex Planet Labs). Their dimensions are just 30 by 10 by 10 centimeters, while their weight is about 4.5 kilograms. Despite the small size, they have sharp vision and can observe the Earth surface with precision.
During the last year's Webit.Festival in Sofia the European Space Agency (ESA) engineer and coordinator Lluc Diaz spoke about the institution's mutual work with startups, like Planet Labs.
The expert explained the benefits from launching small communication satellites, that cost between $10 and $100 million, unlike the big ones for $500 million. The small devices are easier to maintain and can be replaced with new ones when they are hit by space junk for example.
Last year 210 satellites weighing less than 50 kilograms were launched this year to do such things as map the Earth, expand broadband access and track packages on shipping vessels. Тhat is up from just 25 launches in 2010. The 2016 number is expected to double in the next five years.
If you want to keep up with the hottest trends in the space industry Webit.Festival is the right place for you. During the event, you can find out more about the future of exploration of the Universe from top level speakers, likе the Chairman of Breakthrough Prize Foundation Simon P. Worden. The author of more than 150 scientific papers in astrophysics space sciences and strategic studies will talk about the search of life beyond the Earth and deep space traveling.