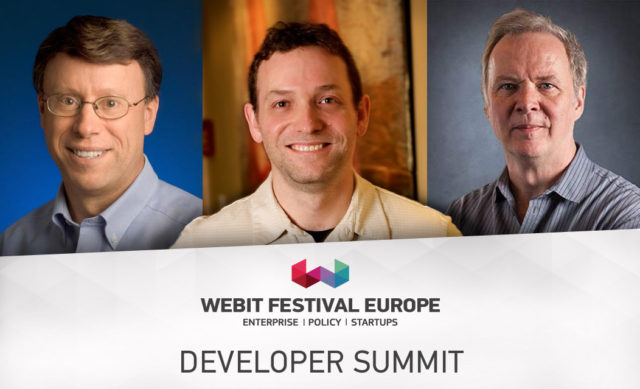 The next massive digital transformation of the world economy will be led by a perfect storm of several different, but equally important trends in the software industry. Open source development, machine learning and artificial intelligence, changing infrastructure and customer-first design all have the power to be game-changers and to transform the world we live in.
This combination will create new opportunities for startup creation and industry disruption. The process will put additional pressure on the already established enterprises to abolish the older technology and reinvent themselves.
One of the common things between the main industry disruptors nowadays is the use of open code software and still managing to monetize their ideas. The other is that they all perceive their businesses as software based.
Webit has always been all about the future of enterprise and policy-making. That is why on this edition of Webit.Festival we have invited top experts in the software development industry. During the Dev Summit will share their experience on topics, such as what is DevOps, how can you streamline and automate Ops, Agile & DevOps, Boosting developers productivity with DevOps and managing deployments and infrastructure with DevOps.
The Founder and CTO of MariaDB Foundation and Founder of MySQL AB Michael "Monty" Widenius will explain to the audience how to make money from open source software.
Google's Developer Advocate Don Dodge will talk about the current state of Machine Learning at one of the biggest corporations in the world, where it is already been used in products people use every day.
The Developer Evangelist at Amazon Peter Heinrich will speak about the millions of downloads and in-app purchases Amazon processes every year and what are the three monetization secrets of the top mobile apps.
Hired's Founder and CTO Allan Grant will share his thoughts about the secrets of starting a marketplace company, its building and maintaining. He will give the audience advices on the user targeting and methods for creating a sustainable community.
The Founder and Chairman of Pocket App Paul Swaddle will speak about the expected growth in enterprise mobile app development, as business focus on "mobilising" their workforce to improve productivity, business efficiency and customer service.
Meanwhile, the CTO of TapOnIt Tsahi Liberman will explain what are the emerging business models of children games and how to teach our kids about peace and tolerance using them.
Here you can see a full list of the confirmed speakers at Webit.Festival, while here you can get all the information you need about the tickets for the event.