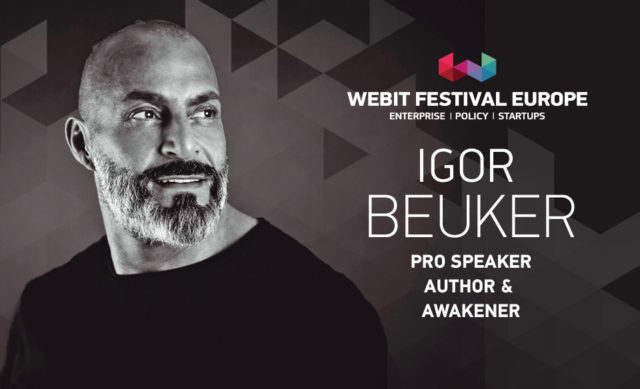 Ever since the emergence of the homo sapiens species on this planet, human nature is directly related to constant processes of transformation and development. But in the modern society we live in, these changes are happening at a much faster pace than most of us can understand.
This year, Webit.Festival Europe will address precisely these comprehensive processes of the Fourth Industrial Revolution, which in the coming years will change almost every aspect of our lives fundamentally.
And there is hardly anyone, who understands today's Digital world better than the renowned communicator and expert in Marketing and Media Igor Beuker. He will be among the keynote speakers during the Opening ceremony of the event, which will take place on 25-26 April in Sofia Tech Park.
In the space of 25 years, Igor Beuker was kicked out of professional football and went from a college dropout to a radical marketing visionary and modern-day serial entrepreneur. He has become one of the prominent speakers in the international business speaking circuit. And he hasn't slowed down since.
Today he is an energetic professional communicator, renowned keynote speaker & host, award-winning marketing strategist for Nike, Amazon, L'Oréal and Unilever, new breed trendwatcher for several Fortune 500 companies, serial entrepreneur with multiple exits, and angel investor.
Global enterprise leaders and media have labeled him one of the most inspiring, innovative and influential speakers and entrepreneurs. In the recent years he appeared on countless television and radio shows as an expert voice on emerging trends in marketing, media and innovation.
During his keynote speech at Webit.Festival, Igor will explain to the audience why he thinks that intelligence is the ability to adapt to change.
Igor will look at the trends through his Math Man lens and will share his thoughts on the world's current systems, that were developed for the 20th century.
He will also present his views on the path Europe has to take to lead the digital economy and build collaborative ecosystems, instead of "egosystems".
Watch Igor's appearance on at CEEDS'15 by Webit: