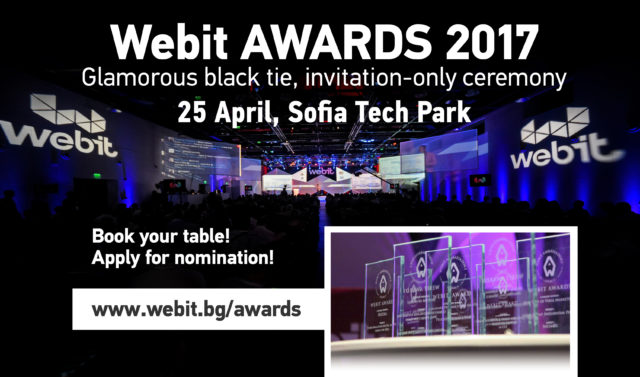 Webit will hand out its annual Awards during a glamorous black tie ceremony. Evening dresses and bow ties of nominees, guests and members of the jury are only one part of the experience during the official dinner. Even more important is the feeling that all the nominees and attendees are part of the people, who are creating the future right now!
The evening ceremony will be held on 25 April in Sofia Tech Park. It is part of the agenda of Webit.Festival Europe – the top digital technology and innovation event in Europe. Here you may see the full agenda of the event, and here you may book your ticket.
The Webit AWARDS recognize and promote quality business models, social projects and policy initiatives in the new digital and tech markets.
The awards are divided into several distinct areas. Winners will be announced for Bulgaria and Central and Eastern Europe – the region, which is the main focus of the event.
Enterprise Awards recognize the most innovative ways of using digital technology in Healthcare, Education, Transport, Tourism, Cyber Security, Enterprise Software, Marketing and Advertising, Cloud Service and Hosting, Increasing Accessibility and Inclusion and Connected Consumer Electronic Devices.
Digital Apps categories cover the best mobile solutions for Entertainment, Customer Service, Banking, Insurance and Finance Management, Games, News, Healthy Living and Eating and Sport News.
Webit's Policy Awards will show the best smart city solutions for Mobility, Energy, Green Tech, Smart Administration, Innovation Through Legislation and Citizen Interaction.
The most successful woman in the tech sector, the most innovative secondary school and a person with outstanding contribution to the digital industry in Bulgaria will receive Special Awards.
Our Jury is composed of dozens of the top world experts in the fields of the awards, as well as local representatives of industry associations, scientists and directors of public institutions.
Among them are the Consultant Surgeon & Co-Founder of Virtual Medics & Medical Realities Prof. Shafi Ahmed, the Chief Creative Officer of DigitasLBi Chris Clarke, the CEO of Amyx+ Scott Amyx, the VP for Cloud and Mobile Technology Strategy at IBM Jonas Jacobi and Google's Developer Advocate Don Dodge.
Here you may nominate your favourite for any of Webit AWARDS categories, and here you may book a seat or table for the official ceremony.