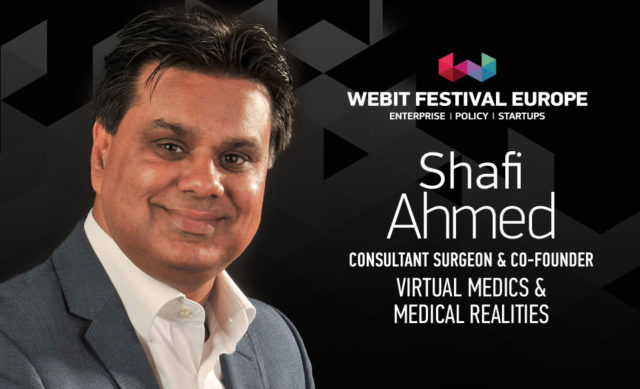 Today, healthcare is inefficient, bureaucratic and expensive. It is a multi-trillion industry, that will be among the most transformed sectors over the next 10 years.
Thousands of startups, along with giants, such as Google, IBM, Apple, Samsung and many others are entering the race to revolutionize the way we treat human diseases today. This will lead to much more sound, effective and cheap health care.
To understand upcoming changes in the best possible way, we asked Prof. Shafi Ahmed a few questions about the future of Healthcare. He is among the most recognized visionaries in the world of medicine and one of the top-level speakers at Health & Wellbeing Summit – part of this year's Webit.Festival Europe.
What do we need to change in our medical education system to answer the needs of tomorrow?
Medical teaching is still very traditional yet technology is advancing exponentially. We need to look at modern methods of teaching the digital doctors of tomorrow.
With my company Medical Realities we are utilising augmented and virtual reality to add a different dimension in immersive learning. I have also introduced a new programme called Barts X for our medical students which teaches our students on innovation and entrepreneurship which is essential in creating future leaders.
You are known as a visionary. How do you imagine the medicine after ten years?
We are currently undergoing the 4th industrial revolution with the fusion of technologies like AR, VR, Robotics, AI, Big Data and the use of wearable technology which will radically change the doctor patient relationship and how we practise medicine.
This is the most exciting time to be involved in medicine. When a patient asks for advice the first point of contact will be artificial intelligence rather than a doctor. The doctor's role will undoubtedly change.
A number of specialties like radiology and dermatology will be largely replaced by sophisticated AI. We will consult remotely using AR and VR and monitor our patients using a mixture of wearables, injectables and ingestible sensors. The cost of genomic profiling will be cheap and will allow us to deliver precision and personalised medicine.
What are the biggest medical threats to humanity?
The biggest threats are going to be new infectious diseases like the Ebola virus which can cause devastation quickly. The inequality of the provision of basic surgery globally will affect the well-being of 5 billion people.
How will technology improve our health and increase our life expectancy?
There is much interest in looking at ageing as a disease which will be modified with either medicine or a gene altering process allowing us to live longer.
What is the biggest technological breakthrough in medicine in recent years?
The unravelling of the complete human genome and reducing the cost of profiling to $1000. The discovery of the CRISPR – Cas9 gene editing which is currently the simplest, most versatile and precise method of genetic manipulation.
Here you can see a full list of the confirmed speakers at Webit.Festival, while here you can get all the information you need about the tickets for the event.