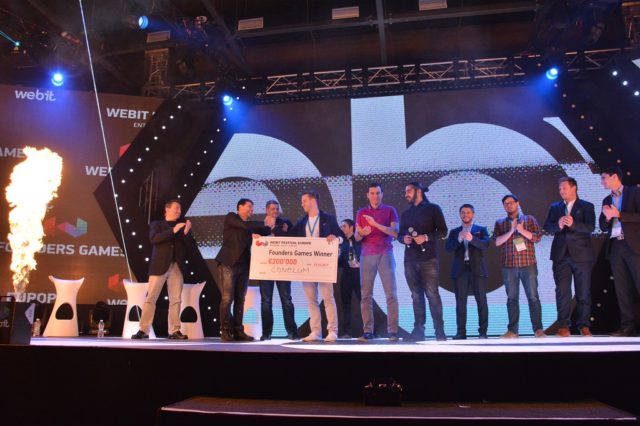 The biotech company CONELUM won the €200 000 seed investment in this year's Founders Games. The event was part of the agenda of Webit.Festival Europe – the most influential event for digital economy and technology in the CEE region.
An international jury of investors evaluated the pitches of the 100 finalists from 2450 candidates in the dedicated startup zone.
With over 93% startup failure overall rate, the selected Webit startups for the Founders Games's semi-finals in the past 7 years have less than 30% failure rate. Being among the Webit's Founders Games startup list is a statement of the company's credibility, innovation and potential in front of enterprise and investors as well as a great marketing opportunity.
This year's event presented to its international audience some of the most interesting Green startups from Northern Europe, that arrived in Bulgaria with the help of Innovation Norway program – the Norwegian Government's most important instrument for fostering innovation and development of local companies and industries.
Among the jury members you could see names like Prof. Shafi Ahmed (Virtual Medics & Medical Realities), Lisa Latts (IBM Watson Health), Jonas Jacoby (Cloud and Mobile Technology Strategy, IBM), Sohaila Ouffata (BMW i Ventures) and a number of representatives of the largest companies in the world.
The top 5 companies had the chance to pitch their projects on Webit's biggest stage and to compete for the grand prize in the challenge. The finalists were the Austrian health tech company Tec-Innovation, which develops an intelligent high-tech shoe that detects obstacles and improve the life quality of blind people, the Latvian biotech startup CONELUM, which has created a proprietary joint-solution for ultra-fast microbiological diagnostics & enumeration at ultra-high sensitivity level, the Slovenian company Feelif, which enables blind and visually impaired people to feel shapes on a standard touchscreen, Amiko (Italy), which delivers medication adherence solutions for chronic respiratory and diabetes care, powered by our proprietary Quantified Medicine technology and the Bulgarian startup Melissa Climate – an IoT company which changes the way people use the appliances they already have by connecting them to the Internet and enabling the end-user to monitor and control their home remotely.
The final decision on the winner of the big prize was taken by four investors – the Executive Chairman of Webit.Foundation Plamen Russev, the Co-founder of Telerik Academy Vassil Terziev, the Co-founder of Imperia Online Dobroslav Dimitrov and the Co-founder and CEO of Chaos Group Peter Mitev.
Their evaluation was based on five main factors – team capacity, project scalability, business approach, marketing approach and uniqueness of the idea.