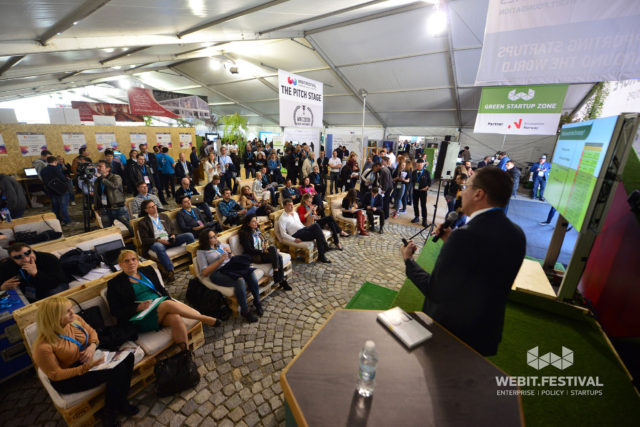 As the Fourth Industrial revolution unfolds and the world is gathering for the fight against the climate change, the development of green and clean technologies emerges as one of the key factors that will shape our common future.
The specifics of this important sector implies that big part of the innovations comes not from the big corporate players who are struggling with the difficult process of digital transformation of their business, but from small startup companies, capable to disrupt the industry with their ideas.
Last week, the most influential event for digital economy and innovation in the CEE region, Webit.Festival Europe, presented to its international audience ten green companies from Bulgaria and Northern Europe and dedicated a special Green zone for them.
The names of the companies involved are Desertcontrol, CO2 Cards, Sweet Home, Greencorp.io, Galex, Teraloop Ltd., Enerwall, Narcine, Sea Harmony Ltd. and QQ Natural.
All of them were part of the big Founders Games challenge in which 100 startups, selected from more than 2450 candidates, competed for a €200 000 seed investment. The big prize was provided by the Executive Chairman of Webit Foundation Plamen Russev, the Co-founder of Telerik Academy Vasil Terziev, the Co-founder of Imperia Online Dobroslav Dimitrov and the Co-founder and CEO of Chaos Group Peter Mitev.
The participants in the competition received free exhibition space and tickets for the festival, as well as the opportunity to present their ideas on the Webit's Startup stage in front of business leaders and investors. You may find the names of the 100 Founders Games participants and more information about their activity here.
Among the members of the investors jury were proven experts like Prof. Shafi Ahmed (Co-founder of Virtual Medics and Medical Realities), Lisa Latts (Deputy Chief Health Officer for IBM Watson), Jonas Jacobi (VP, Cloud and Mobile Technology Strategy, IBM), Sohaila Ouffata (Investment Principal BMW i Ventures), Sridhar Iyengar (CEO, Elemental Machines), Gareth Williams (Founder and CEO of Skyscanner) and a number of top experts from the world's largest companies.
The Nordic startups arrived in Bulgaria with the help of Innovation Norway program – the Norwegian Government's most important tool for innovation and development of local companies and industries.
On April 25th and 26th Webit.Festival gathered in Sofia Tech Park more than 5000 attendees from Fortune 500 companies and major brands, policy makers, innovative founders and academia representatives, coming from more than 90 countries.
The event's agenda included 12 parallel conferences, deployed on 4 stages and covering topics, such as Marketing & Innovation, Digital Economy Leadership, Smart Cities, Mobility, Digital Transformation, FinTech & Blockchain, Big Data & Cloud, Security & Privacy, Health & Wellbeing, IoE and Software Development.