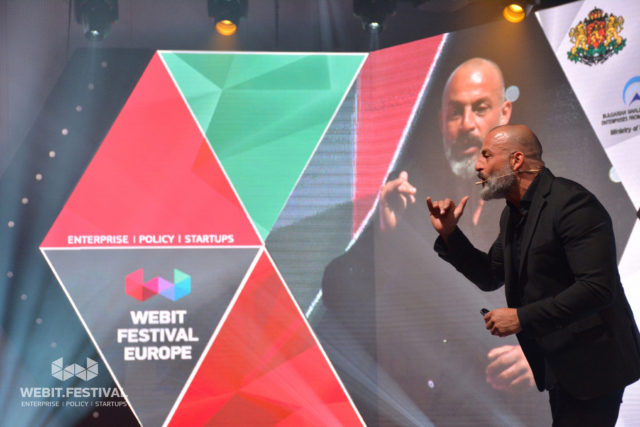 The concept of Digital Single Market that covers digital marketing, e-commerce and telecommunication sectors in Europe was officially presented by the European Commission in May 2015 and was pre-announced on the stage of Webit's CEEDS in April 2015.
The Vice President of the Commission Andrus Ansip explained that the realization of the project could contribute €415 billion per year to the common EU economy and create hundreds of thousands of new jobs.
More than two years after its announcement the Digital Single Market is still looks more like a great idea than а reality. And according to the famous marketing strategist and trendwatcher for Fortune 500 companies Igor Beuker this could be the greatest chance that Europe have, if it wants to catch up with the competition of economic juggernauts like USA and China.
On the stage of Webit.Festival Europe he shared his Math Man view on why intelligence is the ability to adapt to change. This skill is increasingly important in the corporate world, struggling with the process of digital transformation.
During his keynote speech at the Opening ceremony he showed the audience the latest trends in the digital economy and presented his thoughts on the current systems, that were developed for the 20th century.
He explained that Digital Darwinism is the phenomenon in which trends, technologies, consumers and society evolve faster than established brands can adapt. It's a fate that also threatens governments, institutions, and all other corporate organizations. Today, tomorrow and in the unforeseeable future.
"For almost 25 years I am witnessing that advertising may win quarters, innovation wins decades. I don't need to know much about technology, I've just got an open and limitless mind. I've learned that i.e. our financial, political and educational systems were built for the 20th century. It's about time we seriously upgrade these systems, so we can finally deal with the challenges and opportunities of this 21st century", said Mr. Beuker.
According to Beuker, the traditional corporate world is ruled by "Mad Men", who keep spending billions of dollars on advertising, backward-looking market research and consultancy services, but fail to innovate. That's why Mad Men are losing the war from the Math Men. The exponential growing disruptors, who all have a trend-driven, opportunity-seizing innovation culture.
He gave examples of Blockbuster, Kodak, Nokia and many other heritage brands, who neglected trends forever, but kept spending billions of dollars on advertising, IBM consultants, old school R&D, and backward-looking market research. Still they lost. The lifespan for Fortune 500s is declining at a pace we've never seen before in history. A serious wake-up call.
On the other side we see exponential growing companies like Amazon, Tesla, Facebook, Google, Airbnb who are spending billions of dollars per year on trend-driven innovation, not on advertising.
"Amazon spends $13 billion per year on innovation, Walmart and Target each spend $2 billion per year on innovation. Incumbent brands are all addicted to advertising, and miserably fail at innovation. The reason is not technology, because we all have access to the same technologies. The problem with Mad Men is their DNA, mentality and mindset. They'd rather wait 4 more years on relevant business cases. While Math Men are the business case", Beuker stated.
The expert thinks that the main problem with the big brands is their "buy not make mentality" – they are trying to acquire innovators, instead of innovating themselves. Beuker is sure that if the corporations don't start to effectively innovate, they may no longer exist in 5 to 7 years.
The biggest advantage is the fury of the founders of the new digital giants, like Amazon, Tesla and Alibaba. Math Man like Jack Ma has a purpose in life. In 20 years, he wants to grow Alibaba from 500 million to 2 billion customers worldwide, make 10 million retailers profitable and create 100 million news jobs. The Math Men generation entrepreneurs will have a much bigger impact on our global economy than politicians, who have no clue about the digital economy or how to deal with robotization and jobs.
"Digital single Europe is so important because we need startups and unicorns. They will provide new jobs, will create growth, will increase Europe's GDP and will support our digital markets. We don't have Facebook, Google, Airbnb and others, but we would like to have them. Politics and the EU need to facilitate businesses much better. Banning Uber is an ignorant way to block innovation", said Beuker.
Soon you will be able to see his full presentation on our YouTube channel.
If you want to keep up with the latest trend in the world of digital economy and technology, then Webit.Festival is the right place for you. Visit our website and book 2 of our Super Earlybird tickets for Webit.Festival Europe 2018 for just €100.