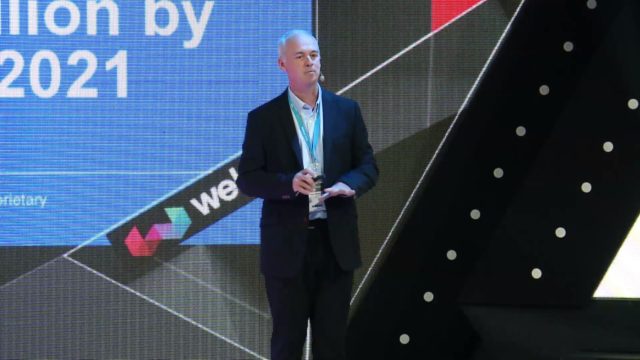 Bluetooth technology is developing with steady pace to satisfy customers, said industry veteran Martin Wooley from Webit.Festival Europe 2017 stage. He is Technical Program Manager EMEA for Bluetooth Segway – the standard body behind Bluetooth technology and told us how the company is regularly improving the range and the transfer speed of its devices. 
"Back in the 1990's there were a billion devices connected to the internet. But only 10 years later their number doubled to 2 billion largely thanks to the smartphones. The forecast for 2021 though is staggering. 48 billion devices will be connected to the Internet and 30% of them will be Bluetooth devices. This is not coincidence – Bluetooth has been systematically developed over the years to keep pace with the market requirements and and to enable new things. And it has become a key enable of the Internet of Things (IoT)", Mr Wooley said, when talking about the future of the IoT industry.
He explained how Bluetooth is now heavily used in the medical and fitness industries rather than just being replacement for cable.
"In the beginning Bluetooth was a cable-replacement technology that gave us wireless mice and keyboards and some great audio solutions. Wind the clock forward to 2020 and Bluetooth Low Energy is in pretty much every smartphone and tablet on the planet. It also gave rise to medical devices, health and fitness devices, wearable technology and so on. More recently Bluetooth 5 was released. The headline changes we have made were that we've made it twice as fast, we increased the range by a factor of 4 and the capacity of broadcasting data was increased by a factor of 8", the expert said.
He also explained more about the bluetooth beacons used more and more by huge businesses.
"You can use Bluetooth devices in two ways. They can either connect to each other and exchange data over the connection or they can work in a connection-less way, with one device just broadcasting data that any other device can see. Beacons are prime use case for the application of this broadcasting capabilities and the numbers are really interesting. Over the last couple of years we have shifted from companies that are running small pilot projects to rolling out serious deployments of beacons into their businesses and the forecasts are amazing. By 2021 the estimates are that there will be more than 500 million beacons shipped in that one year alone", Mr Wooley expects.