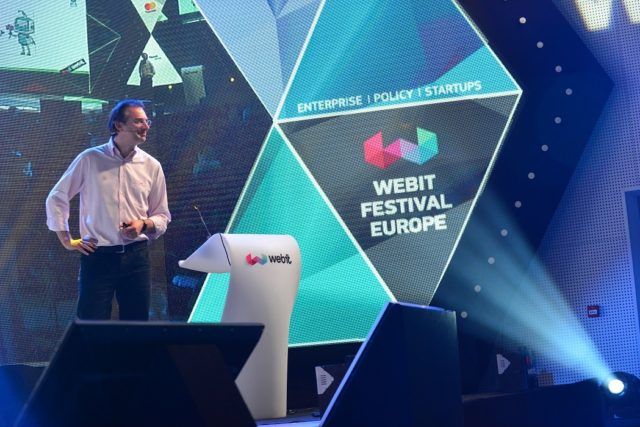 The act of purchase as we know it is progressively disappearing. Driving forces of it are the usual forces standing behind each global change happening: growing and aging population, higher standard of living, climate changes and scarce resources. Nowadays, we can also add the growing presence of digital in everyday's life and the ever changing consumer behavior.
The VP Digital Transformation of SCA Gael de Talhouet gave quite an insightful keynote at Webit. Festival 2017 in Sofia concerning the change in the customer of tomorrow.
How do you sell products in a world where no one buys anything anymore? We're moving from a world where we click, purchase, pay and collect to a world where we will just need to ask, because robots will know our needs.
More and more companies are introducing their subscriptions models, allowing us to get the things we want directly delivered to our homes without the need of going physically to get them from the shop. Amazon has developed the dash buttons which after being connected to your smartphone and pressed, the product you've chosen is automatically reordered. You don't need to order, you just receive. Or speak, as in the case with Amazon Echo. Just ask, tell the device what you need, and it will find it for you.
The next step is when you don't even need to speak. Fridges indicating the products that are missing from it, making lists of what needs to be purchased, washing machines and printers automatically ordering physical goods when supplies are running low. Smart devices noticing when you have a dinner with the friend who loves pizza or if you're in need of a specific vitamins, asking to make an order for you. Or suggesting you a herbal detox tea after noticing you've woken up early and had a week full of meetings. It's not rocket science, it's history browsing and predictive analytics
And what if these devices can recognise our emotions? Scientists and are relentlessly working on and getting closer to breakthrough in the face of voice assistants.
The future of shopping is no shopping. People will not buy anymore because robots will buy. That brings the next question, how do you sell to a robot? Who will the robot buy from and how will it make the choice? Marketing strategies used to be consumer centric, while when this becomes a basis, companies will need to figure out is how to convince a robot to become their client. After digital marketing and e-commerce, welcome to robotic marketing and e-commerce.
You can watch the keynote of Gael here:

Webit.Festival 2018 will gather again top speakers, policy makers and enterprise leaders. Stay up to date with our upcoming guests and agenda on our website and learn more about our ticket options.
Feel the Webit vibe with some of the best photos from this year's event!