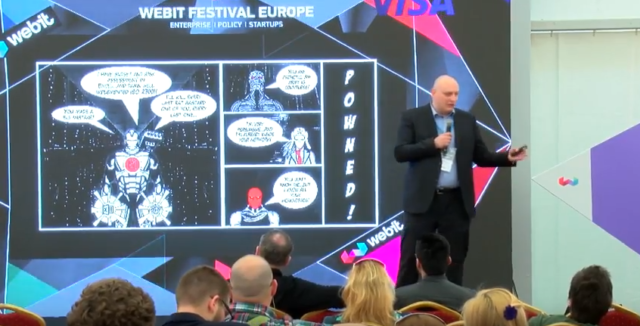 Let's put a cyber security smile on the face of your top docs.
In his presentation @Webit.Festival Europe, Boris Goncharov, a leading cyber security strategist, explained a rather boring subject – cyber security threats. And he did it with a story and fictional characters that he created himself!
Boris Goncharov's character – Captain Ciso, is the great defender of the Business city – the city where all the capital is – human, money, business doing, whatever. While he used to save data, defend the city and its citizens from malware,  the situation is changed now.
One the one hand, the villains express your organisation's vulnerability. Next the Business city is attacked by bots and the worst type of threat is the very invisible one that never leaves traces and you never it was ever there. The city entered the 21st century.
So did the Captain – along with Artificial intelligence on his side, he started using the combination of CMA – DTA – CDSS. This is the logic of the cyber security management of the future. This is the newest way to defeat your cyber security operations and will allow you to continue to monitor, correlate the state of these controls with the external environment.
In order to do all this, you need to be aware of the external environment – a common mistake that everybody  does – not making a risk evaluation. Once done, this brings nothing but knowledge – action needs to be taken, because threats are all around us. That's why it's vital to understand the correlation between your environment and what you can do. The solutions don't change as much as the treats do.
Risk assessment is dead! Today we have to be risk aware every minute.
You can watch the full keynote of the captain here:
If you want to stay up to date with the latest trends in security and privacy, Webit.Festival Sofia 2018 is the place for that. Visit our website and check the different ticket options.