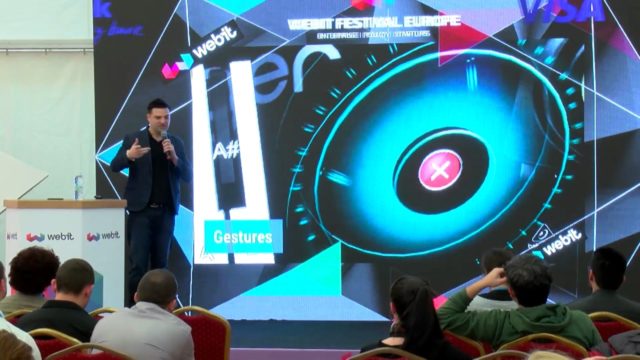 Magic Leap, the all-mysterious company working on Augmented Reality projects since some years has released its own set of VR glasses today. It is not the first and certainly not the last company being active in the tide of enhancing the physical reality. Artificial Intelligence & Augmented Reality have become two concepts which are so modern, used and worked on these days one thinks that if anyone ever had a thought these two would pass as a vain trend for a day or two should have done their research better.
Many doors and possibilities in the future of tech development are created because of the intertwine and mutual use of these two technologies. All the new technologies and gadgets are somehow combining in this big clash that makes one wonder where all of this is going.
Augmenting reality, but also augmenting Artificial Intelligence? Now that's a proper double
At Webit.Festival 2017 in the CEO of ARX Mark Val emphasized on the growing interest of companies in the field of Artificial Intelligence. He also made a point that the two double letter tech disruptors AI & VR are starting to intertwine around each other in a way to create bigger, more appealing and challenging opportunities.
Back in the days which some have seen and lived in, games were played with joysticks on consoles attached to an old fashioned TV box. Thinking of the evolution of passing from rough barely moving images through 2D graphics and the birth of Playstation all the way to Virtual Reality games and controlling with simply using gaze and gestures seems somehow natural yet bringing more questions about what direction shall technology development take.
The mixture of AI and VR is speeding up and AI will for the first time be able to take people as assets of computing. It can learn from our movements and surroundings, thus suggesting improvement and augmentation to what we're looking at, walking through or even while calmly sitting on the couch.
Interactive applications adding experience to museums' paintings, books in libraries is one of the ways this technology is already used for good. Audiences finding such cultural experiences a bit dull are engaged in a fun and creative way and hopefully, brought into further interest in such old fashioned ways to spend some free time on.
More or less, for good or bad, people are becoming more and more connected with their mobile devices and virtual possibilities, addicting as they are. Why not make a good use of all the tech boom for a profitable not only in a material, but a cultural context as well?