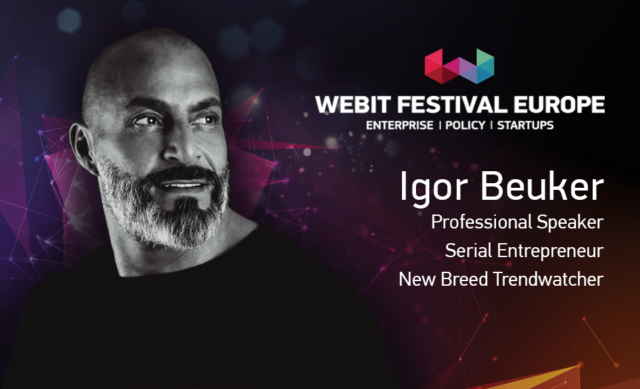 Advertising may win quarters, innovation wins decades
He is a new breed trendwatcher, energetic professional communicator, serial entrepreneur, award-winning marketing strategist and this will be his 4th Webit event – three times in Sofia and once in Istanbul, Igor Beuker has lots to share about his Webit experience.
" Amazing conference, very well-organized, fantastic setting and backstage program, great speaker line-up, and very important to me as a professional public speaker and human being: the connection with the audience (at the event and on social media) is rare and heartwarming. "
Igor is among those speakers who have a special connection with their audience. Here is what he says about the audience in Sofia, and to his fans, in particular:
" The connection with the audience in Sofia, is really one of a kind. I can't explain the feeling.It's one of the reasons why – out of 150 international talks each year – Webit is one of the highlights I really look forward to "
We cannot deny that the difference between Sofia and Istanbul is enormous. Here is what Igor says about his experience:
" Istanbul is a huge international city and the conference is a bit more business focused and formal than in Sofia, was my experience. I love the culture and the passion of the people in Turkey, and some of the attendees became business partners and friends."
Bulgaria and Sofia are aiming at becoming a digital hub for CEE and the attitude and approach towards this is a bit more casual. In the same time, however, we coordinate with the government and local authorities, and as from last year, we were incredibly proud to announce that Webit is the flagship event of the Presidency of the Council of the European Union. The EU Commissioner for Digital Economy and Society Mariya Gabriel is chairing Webit's Plenary Sessions and is a patron of Webit.Festival along with The Government of Bulgaria and the Mayor of Sofia." Last year I shared the stage and the dining table with the president of Bulgaria and the Mayor of Sofia, which is a great opportunity to share ideas."
"Burning Man meet TED" and "Math Man in a world of Mad Men"…
…are just a couple of the new terms that were invented by the Bulgarian audience. At this year's Webit.Festival Europe edition in Sofia, Igor will further develop his Mad Men vs. Math Men theory.
"Can I stretch my Mad Men vs. Math Men theory and framework even further? The Webit audience will give me the answer with their reviews and social feedback. My team and me value what they say and I even reinvent my speeches and one-liners for my talks,
based upon what they highlight.
That legacy brands and incumbents need to get out of their comfort zones, because that's where the magic really happens. My bold style and personality I can't change at 47, but the audience feels I know my why and I keep walking towards my purpose. Next-level change and reinvention is needed. Big is only good when big is smart: Advertising may win quarters, innovation wins decades."
Igor is loved by the companies, adored by his fans and audience everywhere he goes and also by the media.
He gave a very special, exclusive, interview for a Bulgarian media. You can watch his interviews here, where he elaborates his Mad Men vs. Math Men theory in a more simple way.
Igor's answer to "how would you describe the atmosphere at Webit, he says: "Hard to describe, but when I look at the audience tweetback on my site, I get a huge smile on my face and I can't wait to be back!"
We can't wait to welcome you again, Igor! You have a very special place in our city and our hearts.
" Experiencing the last three years, I expect Webit 2018 to be even bigger and better than the previous editions. If that is even possible."
Sure it is! You don't believe us? Take a look at the amazing speakers line here and the one of the kind networking opportunities here. You wish to attend? Book your ticket here.