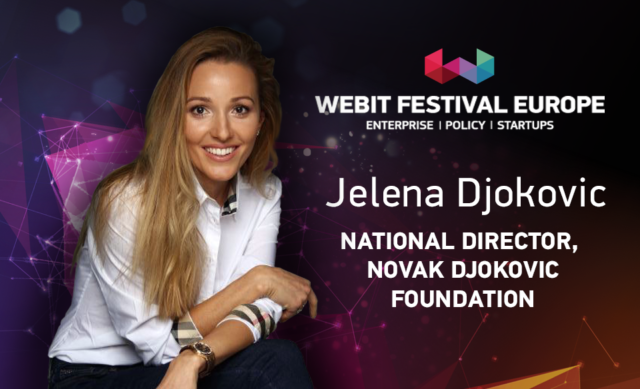 Jelena Djokovic is the National Director of the Novak Djokovic Foundation – school building and learning organization whose mission is to change the world and status quo by investing in children, educators, parents, and youth through education.
Here you can see a full list of the confirmed speakers at Webit.Festival, while here you can get all the information you need about the tickets for the event.
This will be Jelena's fist time at Webit. She shared with us her expectations on the festival:
"I am looking forward to meet and learn from wonderful people who will be at the conference. So much to learn! I always come as a student and I am very excited to learn from all the wonderful people I'll meet. "

Webit stands behind the "No woman, no panel!" initiative and relates to women leading a successful organization. "No Woman, No Panel" is a campaign with a goal to raise awareness on having gender balance in panels and public events. Among the confirmed ladies for June 2018 are the Nobel Peace prize winner Tawakkol Karman, the General secretary of ITUC Sharan Burrow and now Jelena Djokovich The topic of Empowerment women in business and politics is one of the priorities of the Plenary Session, chaired by EU Commissioner Mariya Gabriel.
 I feel genuine gratitude for many strong women out there who fought for our rights fearlessly. The inequality that I am experiencing or have experienced is nothing compared to what my mother had to deal with, or her mother.

I am quite lucky because I was raised by my parents to be strong, confident and bold at times to stand up and believe in myself despite obstacles.

To stay true to myself despite the pressure of people's perceptions of who I'm supposed to be, what I'm supposed to do, say, think.

We can see people who are still trapped in dogmas and outdated beliefs everywhere. That's why I am so focused on children and young people in all the work I do.
We are seeing the women movement, including the Golden Globes awards, a few weeks back, inspirational words, particularly by Oprah Winfrey. In her inspiring acceptance speech for the Cecil B. Demille Award at the 2018 Golden Globes, she condemned a "culture broken by brutally powerful men" and predicted the dawning of a new era spurred on by the #MeToo movement.
I've been following this women movement as you say for months now. It is quite a revolution out there. I have known a lot of women to be very harsh to each other and I am loving how these tough moments that they are sharing is making them closer to each other and supportive of each other. Very touching indeed and very sad that these dark moments have to appear for us to realize that we are not one vs the other. We are together, #metoo so to speak.

I love how lately we have been trying to change the meaning of word ambitious in context of women. Some surveys have shown that if a women is described as ambitious, it is a genuine turn off for men. I really believe that we should be proud to call ourselves ambitious and motivated to excel in different areas of life, not just at home. We are the natural co – creators. God has given us a gift of being able to give birth to a child.

We are the nature's most natural multi-taskers which is known to be something that you have to master in order to achieve greatness. It is logical that we also give birth to wonderful ideas and solutions to improve the life of many, and luckily many women have dared to step out of the borders that were imposed on them because of gender. I respect every choice one makes as long as they are true to themselves.
Jelena is also the founder of the Original Magazine – an ambitious start-up owned by the Foundation whose goal is to empower youth to live their own success story. The magazine was presented to the general audience with huge success and it is recognized as a startup where positivity, compassion, creativity and curiosity are nurtured. It is putting light on people who chose to be their best version and not compromise it for the accolades. The magazine shares their life stories, sacrifices, lessons.
If you ask me if I believe in change in society to happen tomorrow, I don't think I would give you a satisfying or positive answer. I do believe in change, but that change has to be really slow, continuous, from the root of problem. We can make the biggest impact today, and that impact can be seen only after 20-30 years. That impact can happen if we invest in the children and raise them with right values and love. Nobody teaches us to be parents.
We take courses and attend schools to acquire all these different skills that we will show in our CV and hopefully apply to work. But the most important skill we are yet to master is being a good parent, a good role model – and for that there is no course or school.
Lots of values today are distorted or traded off for fame, money, success. Many are losing and compromising their identities for their jobs or some status and perks. They believe they don't have a choice but actually they always do. There is always a very expensive trade off when we chose to join the rat race.
We basically chose to share something that is not common for a magazine, blogs or newspapers today we don't want gossips. We want passion, love, gratitude, joy, curiosity, boldness… That's what we do, we encourage our readers to be true to themselves. To be Originals and not a copy of the current situation in the society. 
Jelena is a strong believer in the lifelong learning concept and the strength that lies in empowering children, youth, and adults to be proactive, agile and positive about themselves. This belief fuels her passion and motivates her to always strive to do more.
Early childhood education and development are her way of life now and Jelena is embracing this not only through her role of a mother but also through her work as the Foundation director.
If we want the lasting change to happen, it requires patience, perseverance. We are changing things from the root.

That means we need to help parents be better parents, we need to help teachers be better teachers and we need to give every child opportunity to excel and develop skills at the early age. Once we set up the good foundation, the sky is the limit!