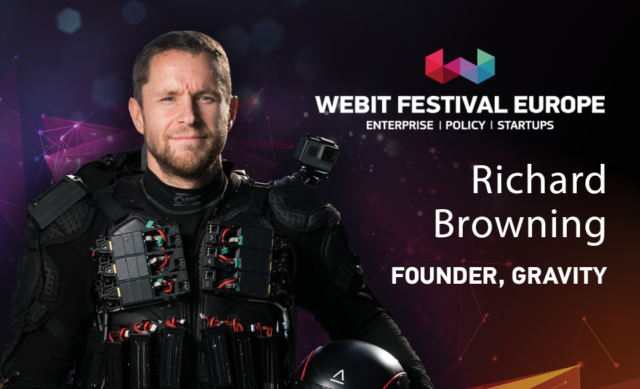 Here you can see a full list of the confirmed speakers at Webit.Festival Europe 2018, while here you can get all the information you need about the tickets for the event.
Removing the fiction from science-fiction, the UK-based inventor has thrown away the rule book with his suit powered by six small jet engines. Founder of human propulsion technology start-up, www.Gravity.co, Richard (The real-life Iron Man) has pioneered his innovative idea into a reality, taking flight in Spring 2017.
"The dream was to re-imagine an entirely new authentic form of human flight leaning on an elegant collaboration of mind and body augmented by leading edge technology. Gravity has to date been experienced by over a billion people globally with video views alone running at more than 60M within 7 days of launch."
Richard's vision is to build Gravity into a world class aeronautical engineering business, challenge perceived boundaries in human aviation, and inspire a generation to dare ask 'what if…'.
"The way you have to balance is pretty much the same stance Tony Stark has in the film," Browning says.
Richard also broke the record for fastest speed in body-controlled jet suit – he reached 32.02 mph and made his mark in the pages of Guinness World Records. He hopes that in the future he will smash it again.
"As the engine starts pulling up, it starts to build you can sense the energy and the moment the ground leaves your feet and you're actually in the air it's a pleasure and joy."
Browning says that this is just the beginning of this technology journey. The next big thing his company is planning is adding wings to the suit, that will allow the person wearing it, to fly further, faster and higher and also use a lot less fuel than now.