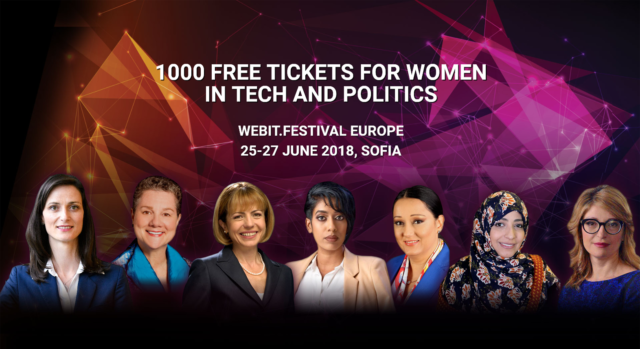 Girls' Power! + 1000 free tickets for women
A few months ago when the European Commissioner for Digital Agenda and Society, Mrs. Mariya Gabriel accepted to Chair the Plenary Session of Webit.Festival Europe, she shared that it is a mission for her to empower women in business and politics.
My wife and executive director of Webit Global Series – Aniela Russeva is an inspiration for how the combination of education, will, passion, direction and tender power can make miracles. I am also fortunate to work and partner with so many female leaders from all around the world!
So when Commissioner Gabriel spoke so passionate about empowering women it was imminent her mission to become Webit.Foundation mission too!
Today I am glad to announce 1000 free* tickets for Webit.Festival Europe for women:
– 250 free tickets for women-coders
– 250 free tickets for women-in-tech (general business, innovation)
– 250 tickets for women in academia and research
– 250 tickets for women in politics.
* 10 EUR handling and transaction fee applies per ticket
The applications shall be accepted on first come – first served bases and based on the info provided. All approved applicants shall be empowered by some of the most inspirational and impactful women in tech, business, politics, academia and civil society.
On a personal level as investor – I am looking to support more and more female founders and to help them to proof success is not a matter of gender, but equal opportunities, education and hard work.
Webit.Festival Europe is also building a special Women's Lounge, which is powered by FiBank.
I am proud to share that Bulgaria is a great example and a global role model of gender equality in business and especially tech. According to the official statistics by Eurostat, Bulgaria is the leader in Europe with with 31.02% women in ICT.  The average for EU is almost 2 times less – 16.7%!
I am so grateful all these global leaders – amazing ladies accepted our invite to join Webit!
See you on 25-27 June in Sofia @ Webit.Festival Europe where the girl's power shall help to re:Invent Europe's Future!
Warm regards,
Plamen Russev
Executive Chairman, Webit.Foundation