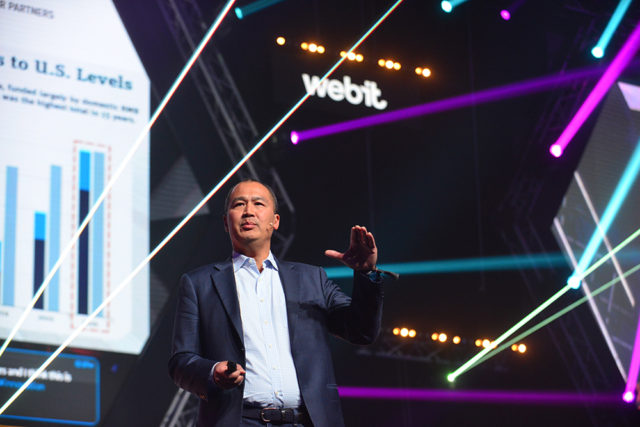 Andy Tsao (Managing Director Global Gateway at Silicon Valley Bank) took us on a journey through some of the emerging markets where he had the opportunity to spend time and build the case for innovation economy. He calls it Adventure Capital.
United States vs Emerging markets
What's happening in US in terms of tech and innovation investing?
The US market has been on a 8-year up-cycle. In 2017, 82,9 M USD were invested and for historical context that is the most amount of Venture invested since the year 2000. But then again by looking at the first quarter of 2018 (28.2B USD) if we do a simple annualization – we may be on a course to exceed a 100B USD venture invested in US this year and perhaps we may eclipse the 105B USD from 2000.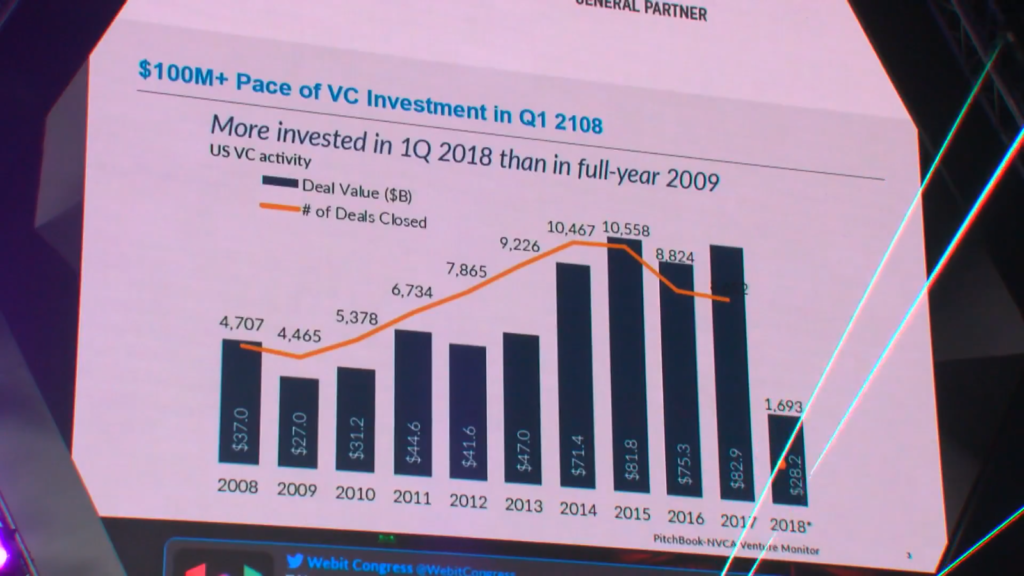 "The US economy is doing well, the stock markets are at all time high, unemployment is at historical low, why are then our investors and entrepreneurs increasingly looking outside the US in emerging markets in terms of creating valuable technology companies?"
If we look at the global set of unicorns – more than half of them reside outside of the US while just 5 years ago nearly 75% of all global venture was invested in Silicon Valley.
Global innovation wave is growing.
➡️ 49% of Global unicorns are outside of US (CB insights)
➡️ 57% of new unicorns are outside US
➡️ China has 55 unicorns, Idia – 9
➡️ 40% of YC is international
➡️ Less than 45% of global VC is in Silicon Valley
Last year, venture commitments in China exceeded $50B for the first time, funded largely by domestic RMB investors. Venture fundraising in china matched US fundraising in 2016, which was the highest total in 15 years. By some measures China is already the largest Venture market in the world. Certainly China is the second largest economy in the world.
India is also a good example of "tropicalization" meaning that entrepreneurs and investors can choose business models from developed markets apply innovation to take those models locally to their home market. Flipkart is a good example of that. The company raised billions of dollars and have been competing vigorously with Amazon in India for the e-commerce market.
"As I travel around the emerging markets, one of the sectors that really pops out is Fintech."
It seems like in many of the emerging markets the banking landscape is very similar – usually dominated by a handful of large powerful banks that act in a monopolistic sort of manner. That means they don't take a lot of risk, they don't treat their customers very well and as a result it gives the entrepreneurs the opportunity to really disrupt, innovate.
Secular trends that drive the acceleration of innovation in emerging markets:
➡️ The amount of capital that you need to launch a business today has drastically reduced from a few years ago.
➡️ Entrepreneurs can leverage cloud based technologies using lean startup models, they can get to Proof of concept much quicker than before with much less money.
➡️ Entrepreneurs don't need to go to the large money centers like the Silicon Valley
➡️ Increasing availability for best practices – Endeavor, Techstarts, YC
➡️ Proactive government funding
➡️ More funding available from US and other developed markets
➡️ Rise of the rest – you'd no longer have to be at one of the traditional US tech hubs to launch a relevant high growth technology business.
---
Missed the 2018 edition of Webit.Festival Europe? Don't miss the 2019! Get your super early bird 2in1 tickets – 2 for the price of 1 here!