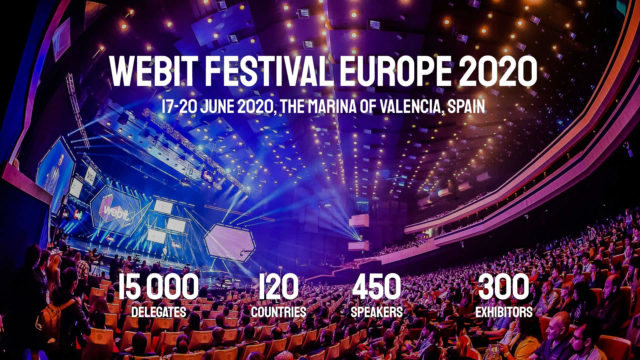 Did you manage to book your Webit ticket at super early bird price? If not – we have good news for you!
We have just announced a very limited number of only 100 Platinum tickets! Hurry up – the previous batch of discounted tickets was sold out for less than 24 hours.
The Platinum ticket is your VIP access to all Webit.Festival parallel summits, to all speakers in the Platinum Lounge, guests of honor, the 3 expo areas, the invitations only events, the yacht soirees, the black tie receptions, all parties and the entire Webit Tech Fiesta to name a few.
Book Your Platinum Ticket at 1/2 price – save €2400
---
More amazing speakers announced
They are joining the previously announced global leaders including:
… and 500 more to be announced in the following months!
Webit program committee has approved the major focus tech areas for the 15 parallel summits of Webit.Festival, Valencia 2020, Spain:
AI (Artificial Intelligence)
IoT (Internet of Things)
VR/AR (Virtual Reality / Augmented Reality)
Next Gen Cloud
Blockchain
5G
Biotech
Robotics
Get ready for more announcements of over 500 first world class speakers in 15 parallel summits of Webit.Festival Europe 2020, at the Marina of Valencia, Spain.
The Platinum Ticket gives you personal access to the special Platinum Lounge with opportunity to mingle with all of them, along with access to invitation only events, yacht soirees, black tie receptions to name a few.
Book Your Platinum Ticket at 1/2 price – save €2400