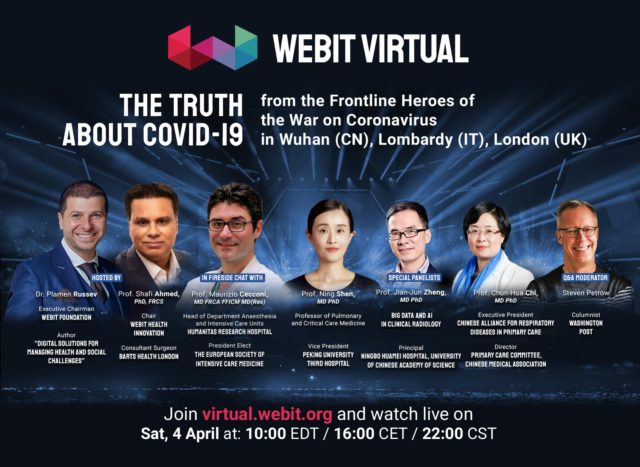 This is a special personal invitation to the invite only, live streamed event  and pre-Premier of Webit Virtual | The Thought Leadership Network.
Join Webit Virtual and watch live:
THE TRUTH ABOUT COVID-19
from the Frontline Heroes of the War on Coronavirus
in Wuhan (CN). Lombardy (IT), London (UK)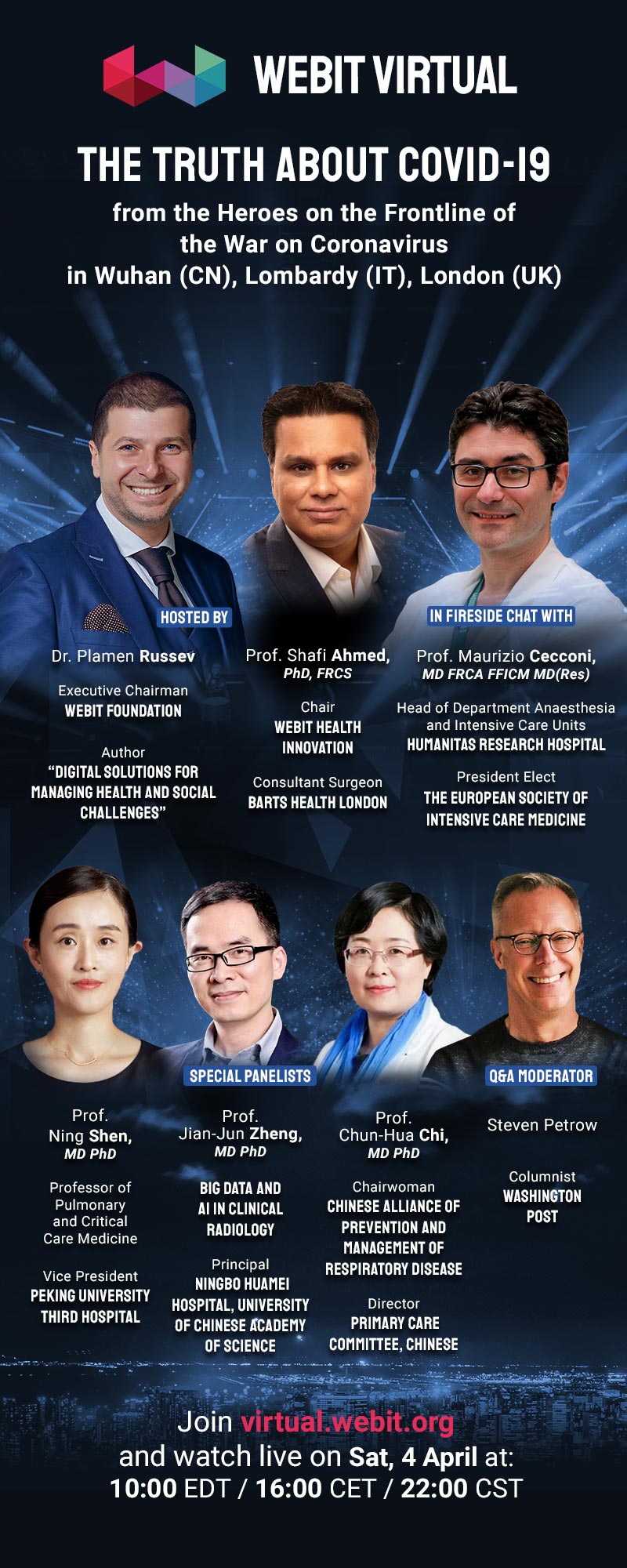 The Virtual Program includes also a Live PITCH session featuring the top 3 of the first batch of startups, selected as part of Webit' COVID-19 Health Security Global Challenge.
Webit's Investors judging panel includes investors from SoftBank, Earlybird Venture Capital, VPS Healthcare to name some.
The Winner' Prize includes:
– a free expo stand at Webit Festival
– wild card and invitation to join the $1 Million Challenge of the Founders Games
– full support from Webit and the Global Impact Committee by endorsing, funding and helping the winner scale.Yours, 
Dr. Plamen Russev
Executive Chairman, Webit Foundation
www.russev.com | www.webit.org | LinkedIn | Twitter
---

Should you want to support the Webit Foundation in our mission and help us to bring back thought leadership in our life (which was replaced by the breaking news),  please contact Aniela Ruseva (aniela@webit.org) to become a sponsor of Webit Virtual Program and our Daily Though Leadership Series.
---

MORE INFORMATION
on the participants in the upcoming Health Innovation Program of Webit Virtual
Prof. Cecconi is a leading global expert in Intensive Care Medicine and a frontline fighter at Coronavirus Europe's most affected (currently) spot – Milan, Lombardy, Italy.
Dr. Cecconi is Head of the Anaesthesia and Intensive Care Department at Humanitas Research Hospital; President-elect of the European Society of Intensive Care Medicine (ESICM) for 2020-2021; Chair Division of Scientific Affairs at ESICM; Director of the Master in Patient Blood Management at Humanitas University.
---

Dr.  Ning Shen, MD PhD is a Professor of Pulmonary and Critical Care Medicine Vice President, Peking University Third Hospital Ning Shen, current vice president of Peking University third hospital, also serves as deputy director of Respiratory Diseases Department and master supervisor.
She earned a medical degree in Peking University Health Science Center in 1995 and completed her doctorate in Peking University third hospital.
Since then Dr. Shen has been engaged in clinical, teaching, and scientific research work in the Department of Pulmonary and Critical Care Medicine of Peking University Third Hospital, where she has gained rich experience in diagnosis and treatment of pulmonary infectious diseases, bronchial asthma, COPD, interstitial lung disease, and other diseases of the respiratory system.
Skilled in bronchoscopy and thoracoscopy technique, her research focuses on respiratory infectious disease and COPD. In recent years, she has presented at respiratory intensive care unit and her research interest includes multi-drug resistant organism infection. Dr. Shen is a member of Chinese Medical Association of respiratory disease branch Infection Study Group.
February 1, 2020, Shen led a medical expert team to Wuhan to assist the fight against the novel coronavirus disease (COVID-19) outbreak, and has accumulated unique and invaluable clinical experience.
---

Professor Qing-Yuan Zhan MD PhD is  Chief of Medical ICU, China-Japan Hospital in Beijing.
Chair of Critical Care Committee, Chinese Association of Chest Physicians

---

Professor Chun-Hua Chi MD PhD; Consultant in respiratory medicine and primary care, PhD supervisor; Chairwoman of Chinese Alliance of Prevention and Management of Respiratory Disease in Primary Care; Dean of general practice department, Peking University Hospital and Medical School; Director of Research Centre of Primary Care, National Research Institute of Healthcare Data, Peking University; Head of Committee of Primary Care of Chinese Medical Association.
---

Professor Jian-Jun Zheng MD PhD is a Consultant Radiologist, Subspecialty in oncology and molecular imaging and data research Clinical Director Ningbo HuaMei Hospital,
University of Chinese Academy of Science Senior fellow of Breast Radiology Committee,
Chinese Academy of Medical Science Senior Fellow of Big Data and AI in Clinical Radiology Committee, Chinese Academy of Medical Science Deputy Chair of Radiology Committee and Academy.

---

HOSTS:
Professor Shafi Ahmed is a multi award winning cancer surgeon working at The Royal London Hospital. He was the Associate Dean of Bart's Medical School and an elected member of council of the Royal College of Surgeons of England where he led the international and global health programme. He is a member of the NHS assembly advising the government on the NHS Long Term Plan and was awarded the Future NHS Award by members of Parliament in 2018. He was also the Asian Star in UK Tech in 2018.He has been recently appointed as an advisor to the Abu Dhabi government for digital transformation of health and innovation. He is the Vodafone ambassador for 5G and Healthcare. He is faculty at Imperial College, Barts Medical School, Queen Mary University, Bradford University, Harvard Medical School and Singularity University where he teaches on innovation and digital transformation.
He is one of the top 20 global influencers in digital health and innovation and is a HIMSS Future50 clinical leader 2019.
He is the Chair of Webit Health Innovation Board and Host of Health Innovation Program of Webit Virtual.
---

Dr. Plamen Russev is the initiator and focal connector of one of the world's largest impact networks and curator of the global Webit community, reaching out to over 800,000 digerati, policy makers, innovators and media. His success stories include creating the global Webit brand from scratch, supporting founders and brands in establishing and growing a successful marketing strategy, creating meaningful relations with potential partners, customers and media. Plamen supports causes which impact the achievement of the UN' SDGs.
He is an investor, philanthropist and serial entrepreneur and proven success record in developing business ventures in multicultural and challenging business environments.
Plamen Russev is B.Sc in Marketing and Management, M.Sc in Electronic Education/Mathematics and Physics, and Ph.D in Healthcare Management.
Plamen Russev has been appointed Goodwill Ambassador for Digital Affairs of his home country –  Republic of Bulgaria and a member of European Commission' BOF.
Dr. Russev' work and impact have been recognised and awarded by governments, associations and NGOs along with 2 honorary doctorates from Universities in Europe and South America. Plamen Russev is featured in hundreds of international and local media  including The Economist, Bloomberg, CNBCe, Forbes, Venture Beat, CNN to name a few.
Dr. Russev is the Founder and Executive Chairman of Webit Foundation and host of Webit Virtual.
He is happily married to the most wonderful girl in the world and father of 2 boys.
ANNOUNCING
WEBIT VIRTUAL | THE THOUGHT LEADERSHIP NETWORK