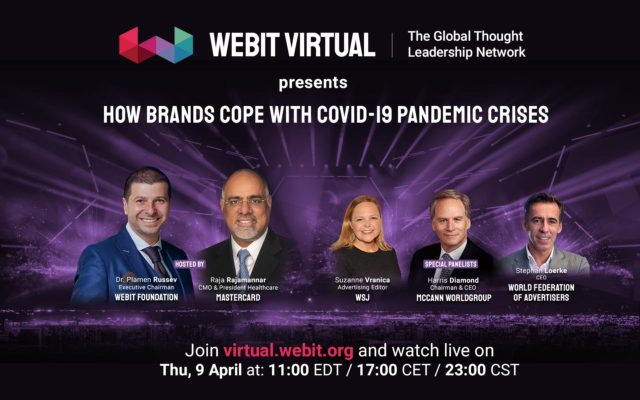 I would like to invite you to join me live on Brands Innovation Program of Webit Virtual | The Thought Leadership Network:
How Brands Cope with Coronavirus Pandemic Crises
hosted & keynoted by Raja Rajamannar, CMO and President Healthcare, Mastercard
The special panelists include:
– Suzanne Vranica, Advertising Editor, Wall Street Journal
– Harris Diamond, Chairman & CEO, McCann Worldwide
– Steven Loerke, CEO, World Federation of Advertisers
 Starting In:

SIGN UP NOW & WATCH THIS FREE WEBIT PROGRAM
Some of the topics include:
– What is the most challenging part of adapting the marketing strategies to this pandemic
– Leadership advice on how Mastercard is handling this situation in terms of employees
– Is the industry changed forever?
Raja' keynote shall be followed by a discussion panel with our other esteemed speakers.
The Program shall conclude with ScaleUp PITCH Session with 3 selected startups from Webit' COVID-19 Global Health Security Challenge with the participation of 4 global investors as a jury – BP Ventures from UK, Acrobator Ventures from US, KFH Capital from Kuwait and Artha Venture from India.
The selected winner shall get a free expo stand at Webit Festival, tickets and opportunity to join the $1M GLOBAL FOUNDERS GAMES COMPETITION.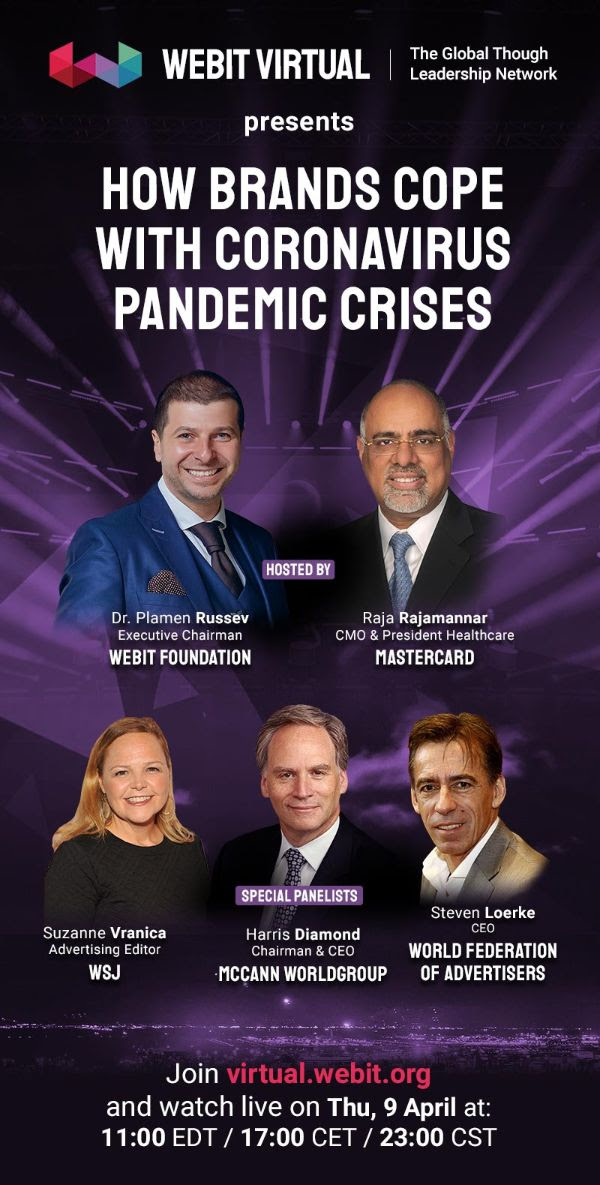 Join the discussion by asking your questions to the participants live via Twitter with hashtag #webit 
Don't miss this free, special, live Webit Virtual Thought Leadership Program!
Add to calendar:
Google | iCal | Outlook | Yahoo
---
The host of this program – Mr. Raja Rajamannar is Chief Marketing & Communications Officer for Mastercard and President of the company's healthcare business.
He is consistently recognized globally as a highly innovative and transformational leader with a deep expertise in Marketing, Data, and Digital technologies.
Some of his recent accolades include:
– Global Marketer of the Year award by the World Federation of Advertisers,
– top 5 "World's Most Influential CMOs" by Forbes,
– top 10 "World's Most Innovative CMOs" by Business Insider,
–  inductee to The CMO Club Hall of Fame.
He has also been recognized as one of AdWeek's most tech-savvy CMOs.
He recently assumed the honorary role of President of the World Federation of Advertisers. Raja has also been recognized by ANA Educational Foundation as the Marketer of the Year in 2019.
See the rest of the speakers and join us live today at Webit Virtual!
Warm regards,
Dr. Plamen Russev
Executive Chairman, Webit Foundation
Goodwill Ambassador for Digital Affairs, Republic of Bulgaria
Serial Entrepreneur / Investor
www.russev.com | www.webit.org

Webit: web site | Linkedin | Facebook | Twitter
Personal: about me | LinkedIn | Twitter
---
WEBIT VIRTUAL | THE GLOBAL THOUGHT LEADERSHIP NETWORK