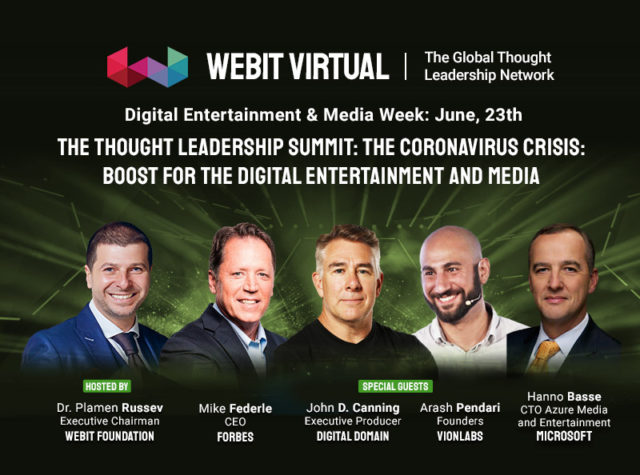 The future of Digital Entertainment and Media is the focus of this week at the "world's leading virtual thought leadership events and platform" as Forbes calls – Webit Virtual.
The CEO of Forbes, Executive Producer of Digital Domain, the CTO of Microsoft's Azure Media and Entertainmenr and the founder of Vionlabs AB in today's virtual event:
starting in

Add to Calendar
Gmail | iCal | Outlook | Yahoo
---
JOIN WEBIT BACKSTAGE!
Some of you – those who fill in their questions in the form (click the button above) – will be invited to ask them in-person to the speakers today in our virtual studio.
---
Coming up next in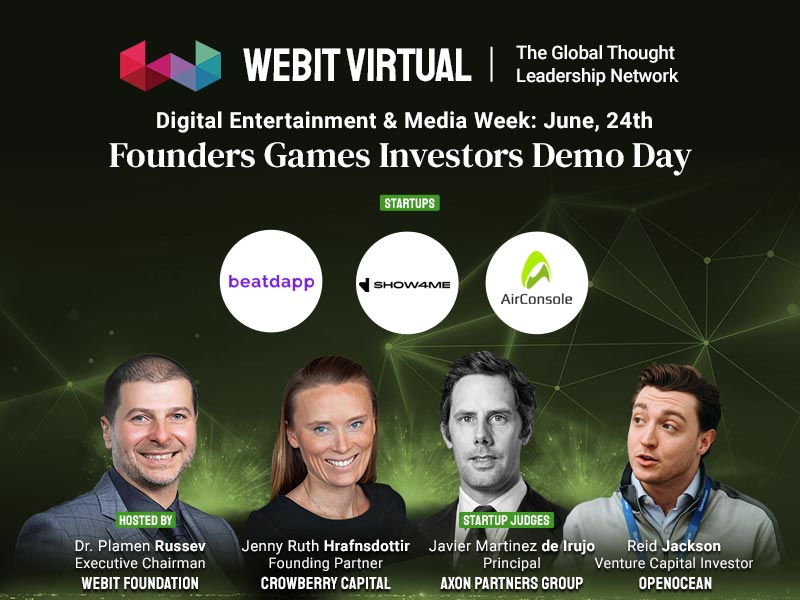 in

Watch the Demo Day with 3 of the worlds top digital entertainment and media startups pitching in front of leading investor's jury.
REGISTER TO WATCH STARTUP DEMOS AND INVESTORS
---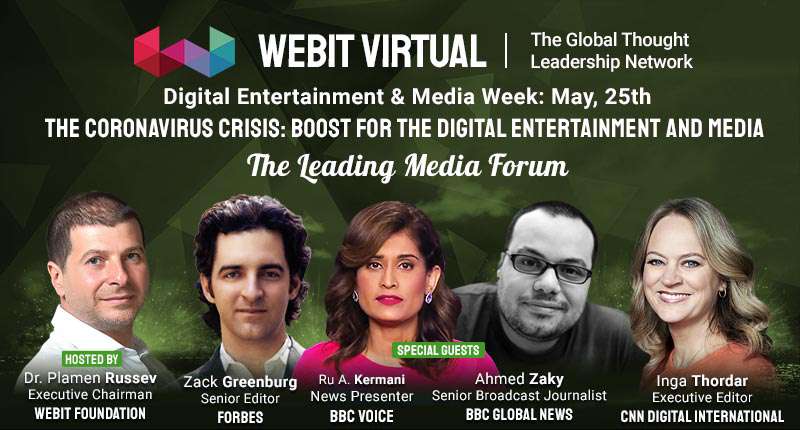 in

REGISTER TO WATCH and ASK QUESTIONS

---
Next week  is Money & Fintech Week: Jun, 30 – Jul, 02 COVID-19 impact on Fintech Industry – major trends and opportunities with the CEO Revolut, Founder and CEO Channel VAS + executive editors, editors and journalists from  Business Insider, CoinTelegraph, Forbes, Mashable.
Next is Corporate Responsibility and Sustainability Week: Jul, 07 – Jul, 09 Business response to Covid-19: Corporate Responsibility and Innovation with Chief of Staff and Head of Responsibility, Philips, Group Chief Marketing Officer Agility + executive editors, editors and journalists from NY Post, BuzzFeed, Inc. Magazine, BBC.
Followed by Geopolitics Week (July 14-16),  Planet Earth Week (July 21-23), Brand Innovation Week (July 28-30), Venture Week (August 4-6), Future of Food Week (August 11-13)
Check the upcoming Themed Weeks until August 2020 and join as speaker or Webit Virtual partner
BECOME A PARTNER OF WEBIT VIRTUAL
---
Webit Virtual is powered by TheVirtual.Show
Ping me on @PlamenRussev or LinkedIn so I can ask the question on your behalf during the live program now on Webit Virtual | The Thought Leadership Network.

Warm regards,
Dr. Plamen Russev
Executive Chairman, Webit Foundation
Goodwill Ambassador for Digital Affairs, Republic of Bulgaria
Serial Entrepreneur / Investor
www.russev.com | www.webit.org

Webit: web site | Linkedin | Facebook | Twitter
Personal: about me | LinkedIn | Twitter