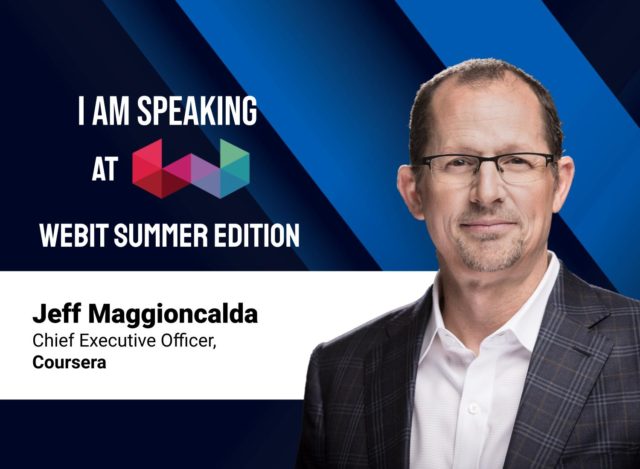 🎉 We're extremely happy to announce that Coursera's CEO, Jeff Maggioncalda is the latest addition to Webit's speaker lineup!
Why you should not miss Jeff's speech?
Thought leadership in AI and education: Jeff's leadership role at Coursera, a platform that leverages AI for personalized learning experiences, makes him an authority on the subject. He is likely to share valuable insights on the role of language models like ChatGPT in shaping the future of online education, as well as the specific features and capabilities of AI that can benefit students who lack access to in-person instruction.
Strategic vision for the future: By attending Jeff's speech, you will gain valuable insights into the future of AI in online education. Jeff's perspectives on how Coursera plans to navigate the opportunities and challenges presented by AI will provide you with a glimpse into the strategic direction of one of the leading platforms in the industry.
What you will learn?
What you will learn?
The role of AI in shaping online education: Jeff will share his vision on how AI, specifically language models like ChatGPT, can revolutionize online education. He will discuss the potential applications of AI in improving learning experiences, enhancing content delivery, and personalizing instruction for learners.
Specific benefits of generative AI for students without in-person instruction: Jeff will delve into the specific features and capabilities of generative AI that can be most beneficial for students who lack access to traditional classroom settings or personalized guidance. He may touch upon how AI can provide tailored learning materials, adaptive assessments, and virtual tutoring to bridge the gap for these students.
More about Jeff?
🚀 With Jeff at the helm, Coursera has revolutionized online learning, empowering over 124 million learners worldwide and partnering with 7,000+ esteemed institutions, all served by high-quality learning content from over 300 of the world's top universities and industry educators. 
💡 He previously served for 18 years as the founding CEO at Financial Engines Inc, a company co-founded by economist and Nobel Prize winner William Sharpe. Financial Engines grew rapidly under Jeff's leadership, providing first-rate online investment advice that has helped millions of people save and prepare for retirement.
From his experience as a consultant at McKinsey & Company and Cornerstone Research, Jeff brings a wealth of strategic knowledge to the table. His MBA from the Stanford Graduate School of Business and his bachelor's degree in Economics and English from Stanford University provide him with a solid foundation for innovation.
However, Jeff is not just a leader in the corporate world. In his free time, he is a lifelong learner and proud dad, and enjoys studying music theory and spending time with his wife and three daughters. 
⭐️ Whether he delves into the future of education, explores the power of technology, or shares his personal journey, Jeff Maggioncalda is certain to captivate and inspire you. Don't miss this opportunity to learn from a visionary CEO who has redefined online learning and transformed countless lives, now joining Webit virtually!
🗓️ Save the date: 28th June, 2023
📍 Venue: National Palace of Culture, Sofia, Bulgaria