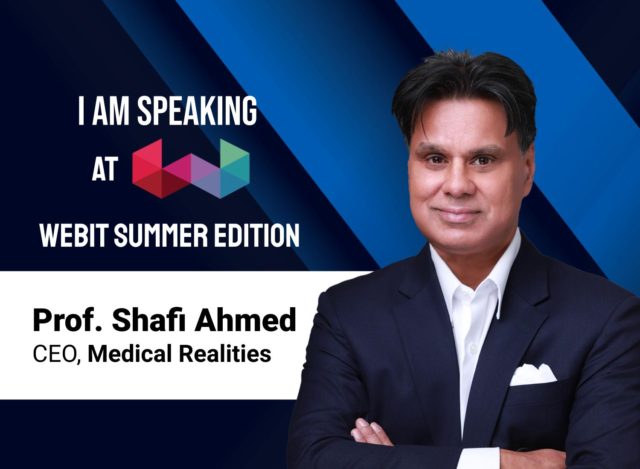 📢 Get ready to be blown away, Webitters! We're proud to announce that Professor Shafi Ahmed, the CEO of Medical Realities and an extraordinary cancer surgeon, will be live at Webit.
Why should you not miss professor Shafi speech?
Don't miss his keynote at Webit: he will provide valuable insights into the disruptive and revolutionizing power of AI in healthcare.
What will you learn?
By attending, you will learn how AI is becoming a vital technology to improve patient outcomes, experience, and journey, by aiding precision during surgical operations and alleviating the workload of clinicians for instance.
More about professor Shafi
🏆 Professor Shafi Ahmed's pioneering spirit has earned him numerous accolades, including the Future NHS Award and the prestigious Silver Scalpel for his exceptional surgical expertise. He has been hailed as the world's most watched surgeon, captivating millions with live streamed operations through cutting-edge technologies like Google Glass and Virtual Reality. His incredible work even caught the attention of BAFTA, earning him a nomination for Operation Live.
🌍 As an advisor to the government, Prof. Ahmed plays a vital role in shaping the future of healthcare through digital transformation. His humanitarian work and his dedication to global surgical education has taken him to over 20 countries, including conflict zones, earning him a Nobel Peace Prize nomination in 2020.
Co-founding Medical Realities, a groundbreaking VR education company, Professor Ahmed is at the forefront of revolutionizing medical training. He advises major medtech and pharma companies, constantly pushing the boundaries of what's possible. His exceptional knowledge has led him to be a sought-after speaker, delivering over 250 keynotes on innovation, the future of healthcare, and digital transformation in over 30 countries.Join us and gain exclusive insights from one of the top 20 global influencers in digital health and innovation. Grab your tickets now!
🗓️ Save the date: 28th June, 2023
📍 Venue: National Palace of Culture, Sofia, Bulgaria