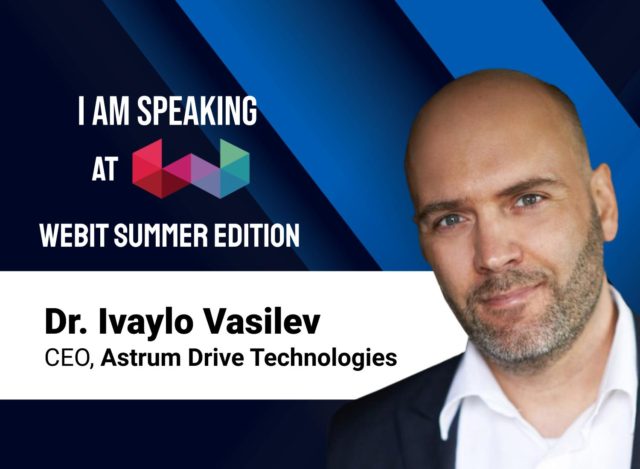 🌌 Calling all space enthusiasts and forward-thinking pioneers in our global community! We are thrilled to announce that Webit will welcome the brilliant CEO of Astrum Drive Technologies, Dr. Ivaylo Vasilev, to our stage this June.
Why you should not miss Ivaylo's speech?
Fluid simulations play a crucial role in various space-related applications, such as spacecraft design, aerodynamics, and propulsion systems. Understanding how AI can be utilized for fluid simulations and optimizations can provide valuable insights into improving space technology development.
What will you learn?
As the CEO of Astrum Drive Technologies, Dr. Ivaylo Vassilev can provide valuable insights into current industry trends and the future outlook for AI-driven advancements in space technologies. This will include emerging technologies, research directions, and potential breakthroughs in the field.
More about Ivaylo
💡 With a remarkable track record of completing over 50 successful projects for Fortune 500 companies, Dr. Vasilev is a seasoned project manager with over 20 years of experience. Hailing from Sofia, Bulgaria, his expertise spans multiple fields, including engineering, AI – in which he has a Ph.D. – international project management, and business administration, earning him prestigious degrees from renowned institutions worldwide.
As the CEO of Astrum Drive Technologies, Ivaylo leads groundbreaking research and development in advanced propulsion systems. Pioneering the world's first propellant-less electrical propulsion which can work in space, Astrum Drive is laying the groundwork for revolutionizing space travel.
🔥 Driven by the guiding principle "Aut inveniam viam aut faciam" (I shall either find a way or make one), Dr. Vasilev has a passion for pushing the boundaries of what is possible. His company has a clear goal – lead mankind to become a truly spacefaring civilization – and his leadership has been instrumental in allowing Astrum Drive to stay ahead in a rapidly-evolving industry.
🚀 If you want to learn more, join us at Webit to hear Dr. Vasilev's insightful perspectives and innovative ideas!
🗓️ Save the date: 28th June, 2023
📍 Venue: National Palace of Culture, Sofia, Bulgaria