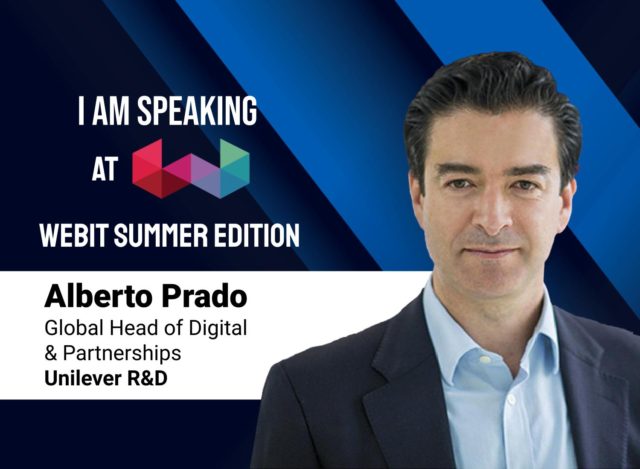 🚀 Get ready to embark on a transformative journey at Webit, as we present Alberto Prado, the Head of R&D Digital & Partnerships at Unilever!
Why you should not miss Alberto's speech?
Alberto's impressive background as the Global Head of Digital & Partnerships at Unilever R&D speaks volumes about his expertise in the field. With experience in leading digital transformation initiatives, overseeing AI investments, and driving innovation programs, Alberto brings a wealth of knowledge and practical insights to the table.
What will you learn?
Alberto's leadership in external ecosystem engagements emphasizes the importance of collaboration in accelerating innovation. Through his speech, you will gain insights into successful collaboration models, partnerships, and ecosystem engagements that leverage AI technologies to drive innovation. This knowledge will enable you to understand the value of collaborative approaches in realizing the full potential of AI-driven innovation.
More about Alberto
💡 Alberto is the Global Head of Digital & Partnerships at Unilever R&D. He leads the Digital Transformation of R&D to maximize the value of data and AI for scientific discovery, process engineering, and new business models. He also leads external ecosystem engagements to accelerate innovation through collaboration.
Prior to Unilever, Alberto set up and led the Digital Innovation Accelerator at Royal Philips to boost innovation and a culture of entrepreneurship. During that period, he chaired the AI Council, providing oversight and steer on company-wide AI-related investments in innovation. Previously, he led the innovation transformation program that delivered the first wave of Philips connected consumer products (IoT) and new business models.
🔥 Alberto started his professional career in management consulting, followed by executive roles at NEC, Symbian Software, and Nokia. He graduated in Engineering and Economics at the Karlsruhe Institute of Technology (Germany) and holds an MBA from INSEAD (France).
🚀 If you want to learn more, join us at Webit to hear Alberto's insightful perspectives and innovative ideas!
🗓️ Save the date: 28th June, 2023
📍 Venue: National Palace of Culture, Sofia, Bulgaria