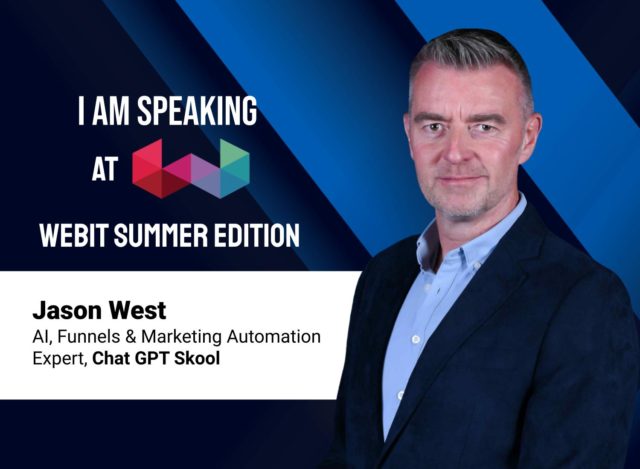 🔥 Get ready for an incredible speaker at Webit this June – Jason West, the AI, Funnels & Marketing Automation Expert behind Chat GPT Skool!
Why you should not miss Jason's speech?
Recently, Mr. West's fascination with AI has led him to explore innovative ways to boost business owners' productivity. He empowers online entrepreneurs to harness the potential of AI, funnels, and marketing automation to elevate their income and efficiency. One of his groundbreaking products, Chat GPT Skool, helps people learn how to double productivity and unlock the full potential of ChatGPT for exponential business growth.
What you will learn?
Join us at Webit and be inspired by Jason's expertise in AI and its application in business. Discover how this cutting-edge technology can revolutionize your operations and drive remarkable results. Secure your tickets now for an enlightening experience!
Read more about Jason
💡 With over 23 years of extensive online experience, Jason has mastered various aspects of the digital landscape, from e-commerce stores and affiliate marketing to software development and web design.
For the past 4 years, he has been laser-focused on creating high-converting sales funnel templates for entrepreneurs, coaches, consultants, and online business owners worldwide. He understands the challenges that technology can pose and strives to alleviate the stress by providing effective solutions.
🗓️ Save the date: 28th June, 2023
📍 Venue: National Palace of Culture, Sofia, Bulgaria