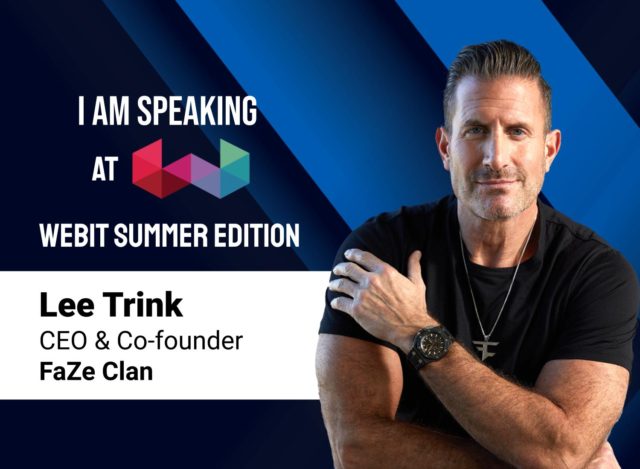 🎉💥 With only a week to go before Webit, we are thrilled to announce the phenomenal Lee Trink is joining our speaker lineup!
Why I shoud not miss his speech?
As the CEO and co-founder of FaZe Clan, the largest and most followed esports and gaming organization globally, Trink possesses unparalleled industry expertise. His deep understanding of the esports landscape, coupled with his extensive experience in entertainment and brand building, makes his insights highly valuable. By attending his speech, you have the opportunity to tap into his wealth of knowledge and gain a comprehensive understanding of the esports industry's current trends and future directions.
What will I learn?
As an industry leader, Trink's speech will touch upon the future trends, advancements, and opportunities in esports. You can gain insights into emerging technologies, evolving audience preferences, and the potential impact of AI, virtual reality, and other technologies on the esports landscape. This knowledge can help you stay informed and make informed decisions in your own esports-related endeavors.
Read more about him
Lee Trink is an entrepreneur in the entertainment and media industries focused on the convergence of gaming and entertainment as both a cultural movement and an explosive business. As the CEO and co-owner of FaZe Clan, the largest, most followed esports and gaming organization in the world, he is creating a brand that extends beyond esports to mainstream entertainment through content, collaborations and e-commerce.
⚡️ Trink began his career as an Assistant District Attorney in Brooklyn. With a true passion for music and a creative business mind, he sought an opportunity to bridge his legal background with entertainment. It's at that moment he began his illustrious career moving through the ranks to eventually lead some of the most well-known music labels in the world.
🎵 In 2001, Trink served as General Manager for artist-first label Lava Records. He went on to lead Virgin Records as General Manager and COO with much success, ultimately resulting in his promotion to President of EMI's Capitol Music Group. He launched the careers of global superstars such as Katy Perry and Jared Leto's 30 seconds to mars, along with architecting global marketing campaigns for The Rolling Stones, Coldplay, and Lenny Kravitz, among others.
Following his tenure at EMI, Trink built his own business where he managed multi-platinum global recording artists such as Kid Rock, The Backstreet Boys and Ice Cube; produced a charity album for the King of Thailand; and worked with iconic brands, such as General Motors, Harley-Davidson and Jim Beam. In this role, he also co-produced the Tony Scott directed "Unstoppable" starring Denzel Washington as well as Sean Penn's short film "Americans".
🎮🔥 At FaZe Clan, Trink is on a mission to change the way people think about esports — not as a niche sport for gamers, but as an entertainment juggernaut. His 25-year career delivers the conviction, ammunition and playbook to make this vision a reality. He's joining Webit for a fireside chat to share his expertise in esports and AI's application in the field.
⚠️⏰ Don't wait, act fast! Seats are filling up quickly, and you don't want to miss out on this exclusive opportunity to hear from the best in the industry. Reserve your spot today and get ready to level up your knowledge of AI in esports!
🗓️ Save the date: 28th June, 2023
📍 Venue: National Palace of Culture, Sofia, Bulgaria