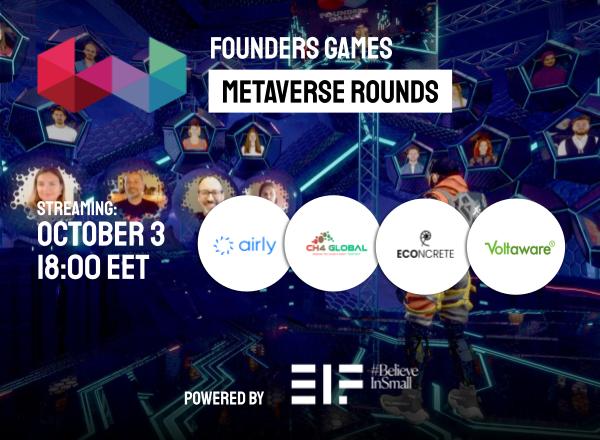 Are you ready to embark on a journey into the boundless world of the metaverse? We're thrilled to announce the launch of the Founders Games Metaverse Project powered by European Investment Fund, where we're bridging the gap between the real world and the metaverse to explore the pinnacle of human potential and technology.
🌎 Our very first episode is coming your way, featuring the Cleantech vertical! Here's a sneak peek of our fantastic lineup:
🚀 Startups pitching on stage:
– Jurgen Van Leeuwen, Global Head of Growth at Airly
– Steve Meller, CEO of CH4 Global
– Ido Sella, CEO of ECOncrete
– Sergey Ogorodnov, CEO of Voltaware
🌟 And that's not all! We've got an amazing jury ready to score these innovative pitches:
– Dr. Michael Hoeck, EarlyBird
– Marie-Helene Ametsreiter, Speedinvest
– Florian Erber, Ananda Impact Ventures
– Thomas Bigagli, Plug & Play Tech Center
– Dr. Plamen Russev, Webit Investment Network
🎉 Get ready for some inspiring cleantech solutions and intense competition! Stay tuned for the action-packed episode! 📺🌱
Every week, we'll bring you a captivating showcase of remarkable technologies that are pushing the boundaries of innovation. Get ready to witness a revolution as we unveil exclusive insights into cutting-edge ideas and groundbreaking technologies that are reshaping entire industries!
Join us on this incredible journey where the real world meets the metaverse, and human potential meets technology. Stay tuned for updates, sneak peeks, and the latest from the Founders Games Metaverse Project powered by European Investment Fund.
#FoundersGamesMetaverseProject #CleantechInnovation #StartupShowdown #StayTuned
Link to stream:
https://www.foundersgames.org/2023/event-2023-10-cleantech.php