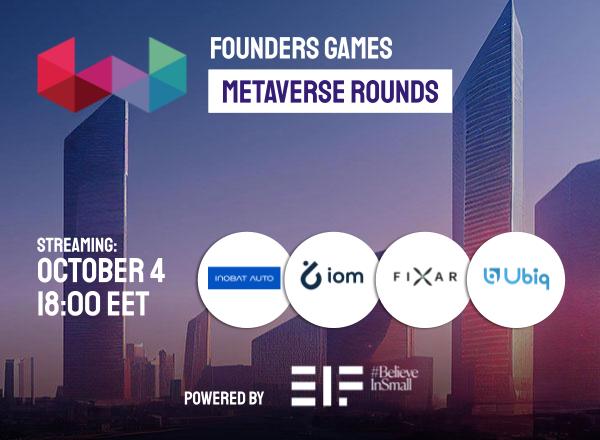 🚀Founders Games' Metaverse Rounds, powered by the European Investment Fund continues with Episode 2, focusing on Mobility and Urban Tech Vertical! 🚗
🔥 Join us to witness these innovative startups take the stage:
Boyd Cohen, CEO of Iomob
Marian Bocek, CEO of Inobat
Yulia Druzhnikova, Co-Founder of FIXAR
Raffaele Giaquinto, COO of Ubiq
🌟 Our incredible jury includes:
Rinat Yogev, GM Ventures (General Motors Ventures)
Alexander Galitsky, Almaz Capital
Max Filippov, GR Capital
Dr. Plamen Russev, Webit Investment Network
Founders Games powered by European Investments Fund endorses and awards with up to $6M investment award the fastest growing scaleups generating societal and environmental change.
Through a bi-annual scaleup challenge gathering 4000+ applicants from 140+ countries, the platform brings together the best founders, the world's top investors, corporate leaders and media to identify and support resilient innovations and impact entrepreneurs globally.
🌍✨
🌎Founders Games is the only global platform powered by the collective intelligence of over 250 investors. Late stage VCs, family offices, corporate VCs and private investors screen through and score the companies which go through 5 rounds of selection. The competition welcomes companies in 17 industry verticals ranging from seed to Series C stages.
🕕 Save the date! Tune in at 6:00 pm EET with the link below and don't miss this incredible opportunity:
https://www.foundersgames.org/2023/event-2023-10-mobility.php
🌟🚀 #FoundersGames #MetaverseRounds #InnovationUnleashed