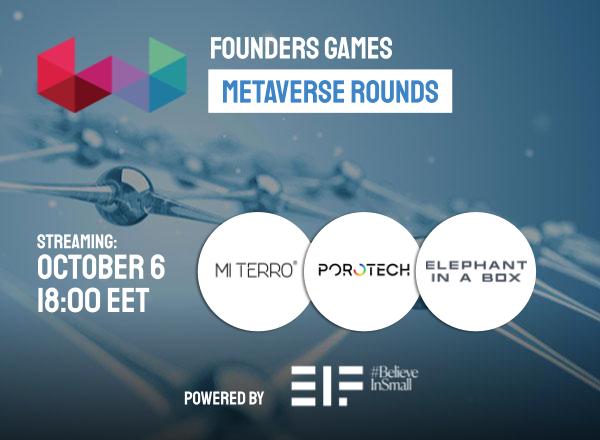 🚀 Founders Games' Metaverse Rounds, powered by the European Investment Fund (EIF), continues its exciting journey with Episode 3, shining the spotlight on the theme of New Materials.
🔥 Join us as we observe these forward-thinking startup leaders step onto the stage:
Robert Luo, Founder & CEO of Mi Terro
Yingjun Liu, Co-Founder & CTO of Porotech
Daniela Terminel, Co-Founder & CEO of Elephant in a Box
🌟 Our esteemed panel of judges features:
Kurt Kaltenegger, ABB Technology Ventures
Philipp Thurn und Taxis, CNB Capital
Marcel Kloosterman PhD, Brightlands Venture Partners
Dr. Plamen Russev, Webit Investment Network
Founders Games, powered by the European Investment Fund (EIF), proudly endorses and grants investment awards of up to $6 million to the most rapidly expanding scaleups that drive positive societal and environmental change.
Through our bi-annual scaleup challenge, which attracts over 4000 applicants from 140+ countries, we bring together the finest founders, top-tier investors from around the world, corporate leaders, and media to identify and support resilient innovations and impact-driven entrepreneurs on a global scale.
🌍✨
🌎 Founders Games stands as the sole global platform harnessing the collective intelligence of over 250 investors. Late-stage VCs, family offices, corporate VCs, and private investors diligently evaluate and rate the companies that navigate through 5 rounds of rigorous selection. The competition welcomes companies from 17 industry verticals, spanning from seed to Series C stages.
🕕 Mark your calendars! Tune in at 6:00 pm EET using the link below, and seize this incredible opportunity:
https://www.foundersgames.org/2023/event-2023-10-materials.php
The Founders Games and the TV series are trademarks and intellectual properties of Webit Foundation – all rights reserved.
🌟🚀 #FoundersGames #MetaverseRounds #EIF