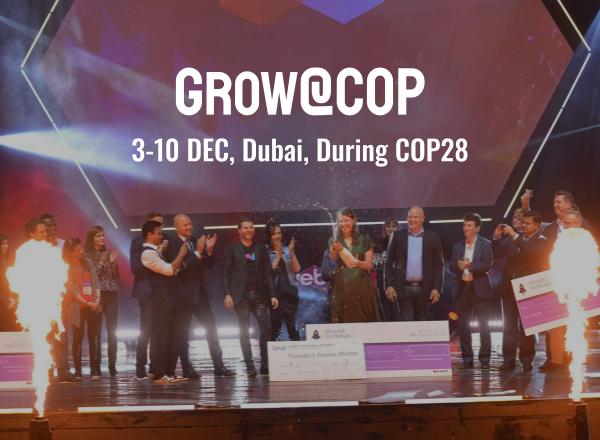 🚀The COP28 Presidency of the United Nations has chosen and invited Webit to showcase global innovations aimed at addressing climate challenges. The forum will culminate in a special Webit ceremony called GROW@COP, to be held at the COP28 Presidency Conference Center.
✨ During this ceremony, Webit will announce the top 5 companies (selected through the five rounds of Founders Games) that have the potential to contribute significantly to finding global solutions. Webit is the founder of the global innovation program and platform known as Founders Games.
👉 This recognition, coming from the highest level, for our impact on innovation and sustainable development, is perhaps one of the most significant moments in Webit's history and is bestowed by the most important global organization.
🤝 Webit Foundation, in partnership with UICCA, led by Her Highness Sheikha Shamma personally, will host eight events during COP28 of the United Nations this year. This is further proof of the impact and influence that our global Webit community possesses and serves as an even greater incentive for our team to work towards creating value for our country and the world.
The thematic days of the event during COP28 are as follows:
HEALTH / RELIEF / RECOVERY AND PEACE
–
Date: December 3rd
Location: Pavilion, Knowledge Hub, Green Zone

FINANCE / TRADE / GENDER EQUALITY / ACCOUNTABILITY
–
Date: December 4th
Location: UICCA Location: Pavilion, Knowledge Hub, Green Zone

ENERGY / INDUSTRY  AND JUST TRANSITION
–
Date: December 5th
Location: Pavilion, Knowledge Hub, Green Zone

MULTILEVEL ACTION / URBANIZATION AND BUILT ENVIRONMENT / TRANSPORT
–
Date: December 6th
Location: Pavilion, Knowledge Hub, Green Zone

FOOD / AGRICULTURE AND WATER


–


Date: December 8th
Location: Pavilion, Knowledge Hub, Green Zone

YOUTH / CHILDREN / EDUCATION AND SKILLS
–
Date: December 8th
Location: Youth Pavilion, Green Zone

NATURE / LAND USE AND OCEANS
–
Date: December 9th
Location: Pavilion, Knowledge Hub, Green Zone

GROW@COP GRAND FINALS GALA CEREMONY


–


Date: December 10th
Location: Main Conference Center of COP28 Presidency