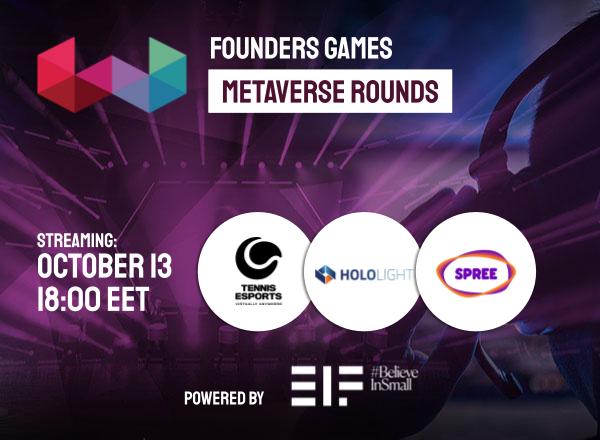 🚀 Brace yourselves for the upcoming Founder's Games Metaverse Rounds episode, powered by the European Investment Fund (EIF)! 🌟
Today, we're diving deep into the world of Media & Entertainment.
Tune in and be wowed by the amazing startup leaders taking center stage. 📺
Gregory Gettinger, Founder & CEO, Tennis Esports
Susanne Haspinger, COO, Holo-Light
Jontahan Nowak, CEO, SPREE Interactive
Don't miss meeting our impressive panel of judges:
Vinay Solanki, Channel 4 Ventures
Peter Vanbekbergen, imec.xpand
Bakhrom Ibragimov , Partner, Molten Ventures
Plamen Russev, Ph.D Russev, Webit Investment Network
🎯 Founders Games, powered by the European Investment Fund (EIF) proudly endorses and grants investment awards of up to $6 million to the most rapidly expanding scaleups that drive positive societal and environmental change.
🌎 Founders Games stands as the sole global platform harnessing the collective intelligence of over 250 investors. Late-stage VCs, family offices, corporate VCs, and private investors diligently evaluate and rate the companies that navigate through 5 rounds of rigorous selection. The competition welcomes companies from 17 industry verticals, spanning from seed to Series C stages.
📅 Mark your calendars! Tune in at 6:00 pm EET and make sure you don't miss out on this fantastic opportunity. 📅
Link: https://www.foundersgames.org/2023/event-2023-10-media.php
The Founders Games and the TV series are trademarks and intellectual properties of Webit Foundation – all rights reserved.
🌟🚀 #FoundersGames #MetaverseRounds #EIF