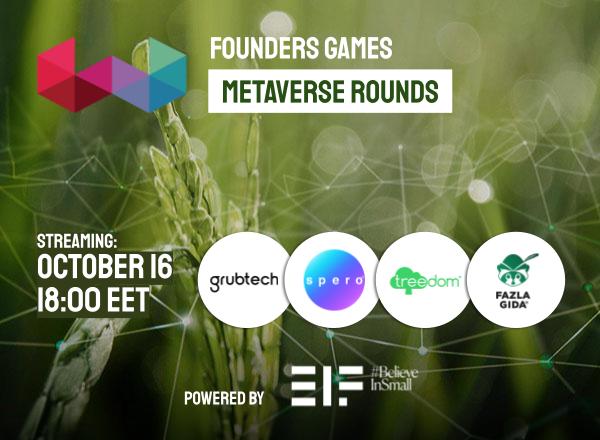 🚀 Get ready for another exciting episode of the Founder's Games Metaverse Rounds, brought to you by the European Investment Fund (EIF)! 🌟
Today, we're delving into the realms of FoodTech and AgTech.
Join us and be amazed by the remarkable startup leaders who will be in the spotlight. 📺
Phaedra Randolph, CEO & Founder, Spero Foods
Federico Garcea, CEO & Founder, Treedom
Koray Kocer, CMO, FazlaGıda
You won't want to miss the chance to meet our impressive panel of judges:
Ting-Ting Liu, Prosus
Laila Hassan, Algebra Ventures
Julia Sohajda, Vespucci Partners
Plamen Russev, Ph.D., Webit Investment Network
🎯 #FoundersGames, powered by the European Investment Fund (EIF) proudly endorses and grants investment awards of up to $6 million to the most rapidly expanding scaleups that drive positive societal and environmental change.
🌎 #FoundersGames stands as the sole global platform harnessing the collective intelligence of over 250 investors. Late-stage VCs, family offices, corporate VCs, and private investors diligently evaluate and rate the companies that navigate through 5 rounds of rigorous selection. The competition welcomes companies from 17 industry verticals, spanning from seed to Series C stages.
📅 Mark your calendars! Tune in at 6:00 pm EET and make sure you don't miss out on this fantastic opportunity. 📅
Link: https://www.foundersgames.org/2023/event-2023-10-foodtech.php
🌟🚀 #F](https://www.foundersgames.org/2023/event-2023-10-foodtech.php)oundersGames #MetaverseRounds #EIF