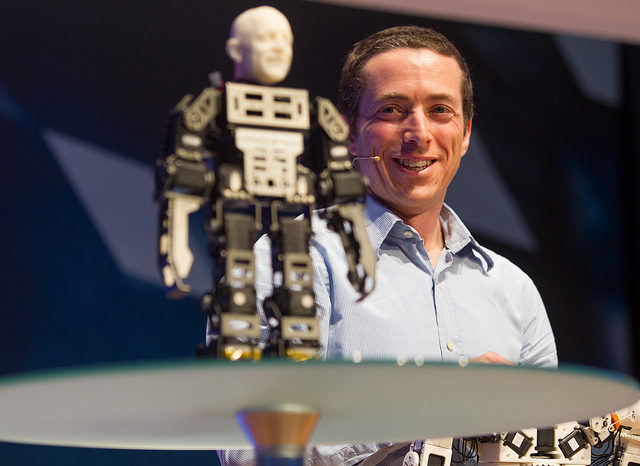 The world of robotics and 3D printing is exploding and RoboSavvy, a British company headed by Limor Schweitzer is at the forefront of research, development and sale of everything you need to create your robots. 3D printers, 3D scanners and sensors are also there for you to take and play with.
The realities are changing and to give you an example of this, last year Google acquired eight robotics companies including Boston Dynamics. It is obvious that robotics is a promising area and the big players are planning their future expansion in this area.
Limor Schweitzer  founded RoboSavvy in 2004 with the vision of creating humanoid robots that bring the excitement of video games into reality. His main area of interest was, and still is, in humanoid locomotion and creating humanoid robots, which are capable of performing basic acrobatics. Over the years, the company became a leading retailer of robotics equipment for hobbyists and researchers in Europe while providing exceptional technical support to customers. The online community forum is the leading source of knowledge in the area of hobby humanoid robots with thousands of active participants that share their passion of bringing humanoid robots to life.
RoboSavvy offers a wide range of products including humanoid robots, 3D printers, DIY electronics and sensors. RoboSavvy is a leading source of materials and knowledge in the area.
Today with the advancement of technology and 3D printing it is very easy to assemble a 3D printed robot.
RoboSavvy is currently creating the most advanced 1m tall research humanoid robot in the world, an affordable 3D printable humanoid robot, designated for a new education program to motivate young minds and future engineers.
RoboSavvy product selection includes Makerbot, the creators of the iconic Replicator 3D printers and Robotis, the leading manufacturer of humanoid robot servos.
Since the topics at the Leaders of the Future Tech Summit revolve around future tech trends including, robotics, Internet of Things (IoT), wearables, Digital Health and Education, Big Data it will be interesting to see Limor Schweitzer, share his experience and future vision of Robotics and 3D printing.
Join Limor Schweitzer and other speakers at the Leaders of the Future Tech Summit in Istanbul on 1-2 October.
Apply now for our early bird tickets.