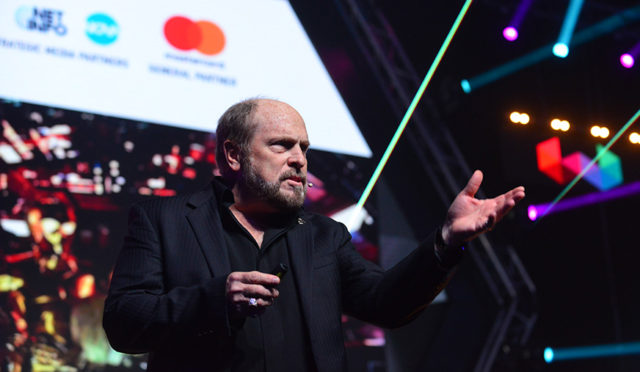 His speech was not purely theoretical. It was about life lessons, and he's full of them. He came to share some stories and talk about some myths.
He promised to knock the audience's socks off and he did!
"I always wanted to be a rock star!"
This is how one of the coolest and most prominent people in the space industry started his speech @Webit.Festival Europe 2018.
His name is Rick Tumlinson and what he does is more than fascinating – mining into space to harvest resources for people into space can be using. Note, they are not bringing anything to the Earth. His dream is to democratize space investment.
Rick is Co-founder and Chair of the Board of Star Century Partners . He is the person who makes flying into space so easy, as if it's a mobile platform.
We've been in space for over 2 decades.
Imagine it's the year 1550 when so many things seem impossible – like traveling with more than 50 m/h or landing on the Moon. But the landing did happen, despite what critics say, and it was astonishing. One major thing happened that night Rick says – those kids watching the TV were watching the future but in the same time they were seeing terrible things – Vietnam war, Cold war, nuclear weapons…
It all started with a rocket in the 90s. It failed. But it started.
Elon and Jeff didn't just come one day and said "I'm gonna build a rocket that goes in space". The route is difficult and there are many more people behind a project. Rick was one of them.
The 3 keys to a frontier are:
You can't turn a place into a frontier unless you can get there cheaply and easily and reliably
You have to be able to use the resources in space – wherever you go, you have to be able to stand on your own based on the resources available
Governments that support the idea of an open human frontier in space
We have private companies building space stations – like Bob Bigelow, the multi billionaire, who is sending modules in space so people like Rick can use them. And it's not empty words, US, Luxembourg, UAE have passed laws to legalize mining in space. Next are coming Japan, China… until everyone really encourages people in space.
There's this myth that you have to be China, Russia or the USA to go into space. Due to improvement of technology, the costs are dropping and everyone, all those nerds and bookworms who have only ever dreamt and seen the landing on the moon, being kids then, can now achieve it. Everybody can go, it really doesn't matter who you are.
The name Elon comes in several times throughout Rick's speech and everyone says he's doing something revolutionary. In terms of space, he's really about to destroy the status quo. Right now, the whole human race is represented by 3 – 6 government officials that are in the space and are working on the science, the commercial development, discoveries inside the spaceship. This is about to change. There are new spaceships being developed – the BFR by Elon Musk, being able to carry 100+ people in space.
You could be one of those people!
You have the chance to change the future today.